Sorry for the delay but its been a bit hectic and me and Photobucket have not been getting on! Anywhooo
I have received a fabulous package!
Bag and Swiss Chocolate, I love the colours of the bag!
Beauty Kit: The earring dont show up well on the photo but I have been wearing them everyday!
Breakfast Bag, who does not want chocolate for brekkie!!!
And a first aid bag, chocolate should be in every first aid kit!!!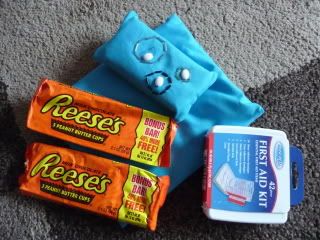 Very well stalked!
I love it all