This is my first post of something I've made. I'm a serial Craftster lurker! I was working on this chair anyways, and I decided this was as good a place as any for my first project post.
The back story: I found this chair at my MIL's house, buried under a pile of clothes, blankets, and pillows, and in desperate need of a make-over. Turns out, the chair had been a favorite of my husband's and his brother's when they were kids. It was one of the few pieces of furniture that survived their house fire about 10 yrs ago. Probably due to the waterproof plastic leather cushions! She said I could take it if I wanted it. Since my DH loved it, I decided to refinish it rather than paint it. He's a die-hard woodgrain lover. But, wow. Was that ever a lot more work!
Here's the only before pic. You can sort of see where my MIL had started sanding away the finish on the armrests. It's covered with nicks and scratches on the frame, but amazingly, no water damage or anything. And there's the plastic leather.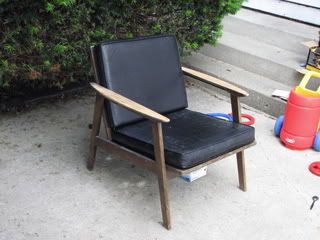 Naked chair! After refinishing but before the seat springs are back in: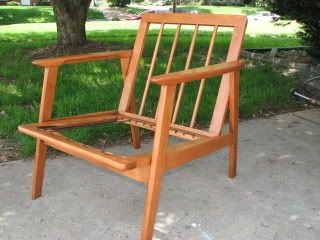 Here's the new chair (DH thinks the fabric looks like a 70's bead curtain, but it's "Midwestern Modern" for a midwestern chair!):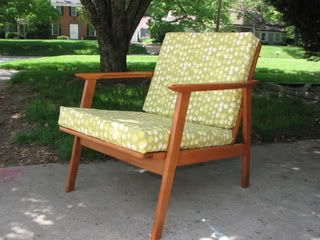 It's actually an indoors chair but I did all the work out in the garage, hence the outdoors pics.
Let me know what you think... I think it's crying out for a pillow and an ottoman - sounds like good 'next projects'!
Thanks for looking!