This tiara has been in my mind for quite the while. I designed it with a fairy princess in mind. I thank you so much for offering this up as a challenge, it got me off my seat to do it! It combines several of my loves - fiber, precious gems, fairies and nature.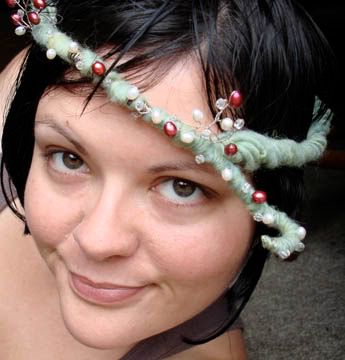 Forest lichen fairy tiara
I started with a walk in our glass forest and found a young sugar maple bough in its decline that I snipped off. I softened and shaped the bough to fit, letting the end of the bough curl out a bit naturally.
Using silver wire, I wrapped the bough's overlap and curl to provide stability and shape.
I built up branches, little buds and blossoms from the sugar maple circlet using silver wire, cranberry pearls, faceted crystals and white pearls.
I blended several different colors of wool and a splash of angel hair sparkly to get this woody lichen color, and spun it up into a thick and thin single of lichen fairy yarn. The yarn was given a vanilla lavender bath - the best smell in the world!
I took the yarn and split it evenly on each side, tying each strand on its own then wrapped them around the remaining wood, leaving a small tassel in the back. this part keeps it very soft on the head - nothing like headaches from your tiara
Another strand I wove in and around the jeweled parts, as if they grew out and around the lichen fairy yarn.
Anyhow, I guess that's it for process...I think it looks best it askew, as I think any fairy princess would, as she's so busy with her duties there is no time for tiara maintenance.
Thanks again for the challenge, I'm jazzed to make more!