I received from baa-me-chick today! I had loads of fun unwrapping everything, especially since the lost parcel that I sent to her (the one that went to the Netherlands for some obscure reason only sorting computers can fathom) arrived in Scotland yesterday! Yay! So I didn't have to feel guilty and was free to appreciate all the nice stuff that she sent. She went with two of my themes, Britain and Buffy the Vampire Slayer. You cannot go wrong with either of them, really... just walking into a store with touristy British items and picking things randomly will (almost) do
... and who can resist Buffy and her gang!
Anyway, here goes:
Everything in the box. She's even got a crafty swap lady business card!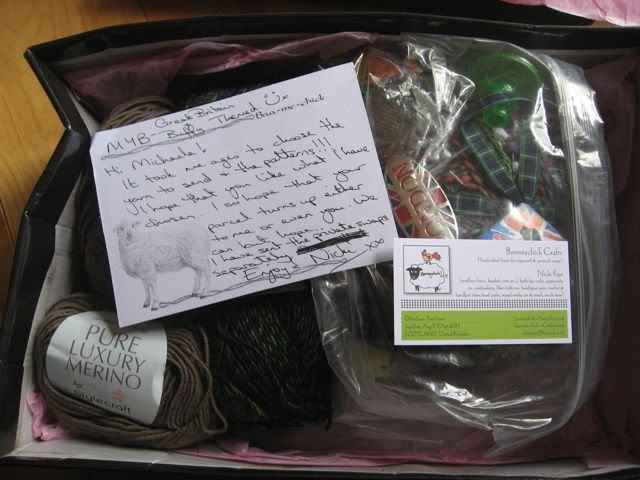 The ball, the two patterns (one for the handspun used for the magic yarn ball, the other one for the other yummi yarn) and some extra yarn.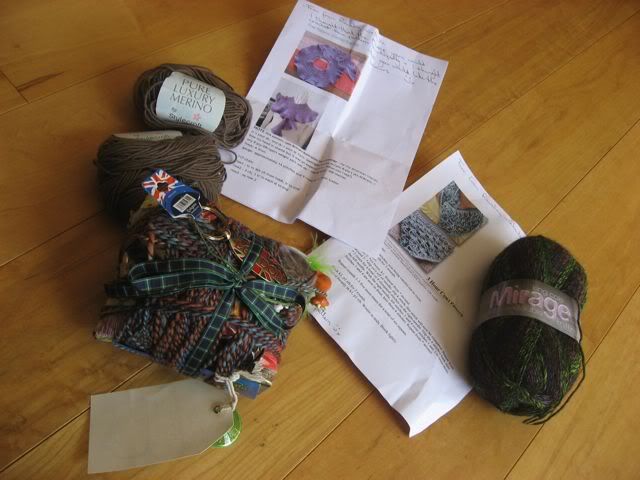 Closeup of the barn - LOVE the handspun! - with a pretty tartan ribbon
All the goodies from left to right: two nice balls of brown soft merino, some shortbread and Yorkshire boiled sweets, the British/Scottish good stuff (keychains, Edinburgh castle coaster, tartan ribbon, iron on Scottie (yay), a funky green pen on a stand with a little highland cow on top, two cute Westhighland White Terrier buttons, a bracelet with shrinky charms, handmade soaps with thistle and celtic knot pattern, a ... mystery item with a shrinky charm of a highland cow), Buffy goodies (fridge magnets with pictures, crochet and knitting stitch markers that spell B U F F Y and S L A Y E R, a little blank book "Buffy forever"
), the two balls of yarn for the two patterns (a cowl pattern for the handspun, a scarflette crochet pattern for the mirage yarn)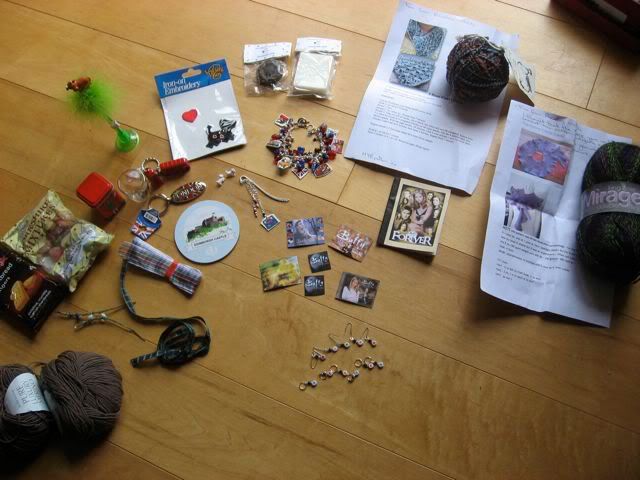 Some closeups:
mystery item (shawl closure thingie?)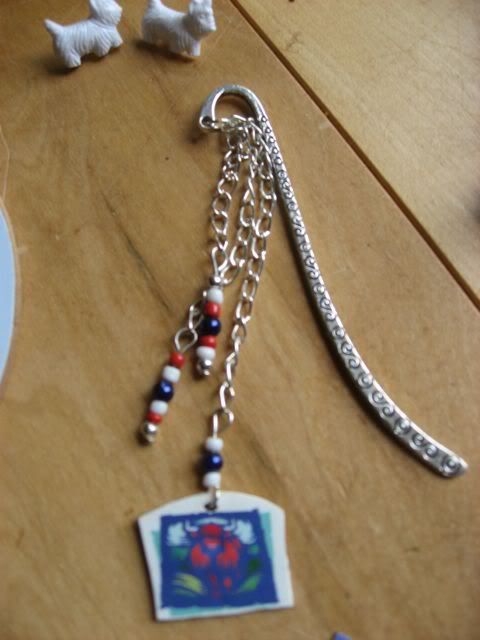 stitch markers: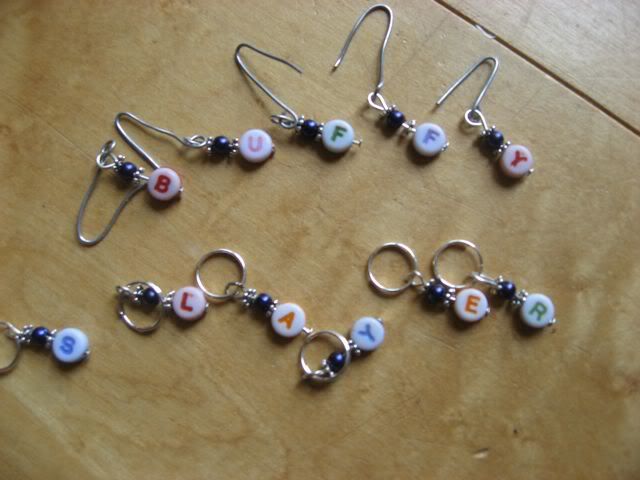 very cool British bracelet: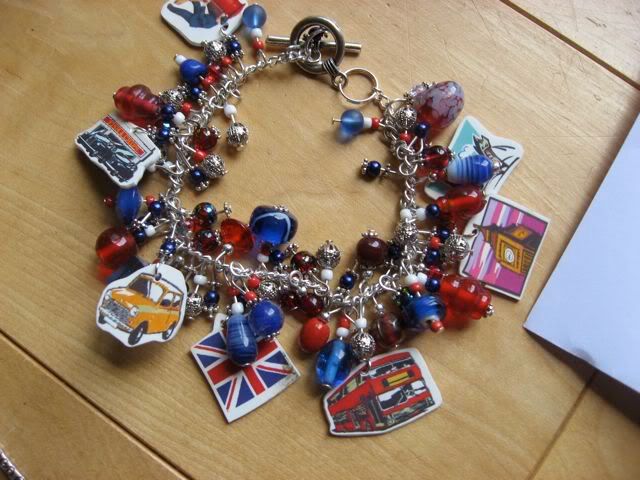 fridge magnets: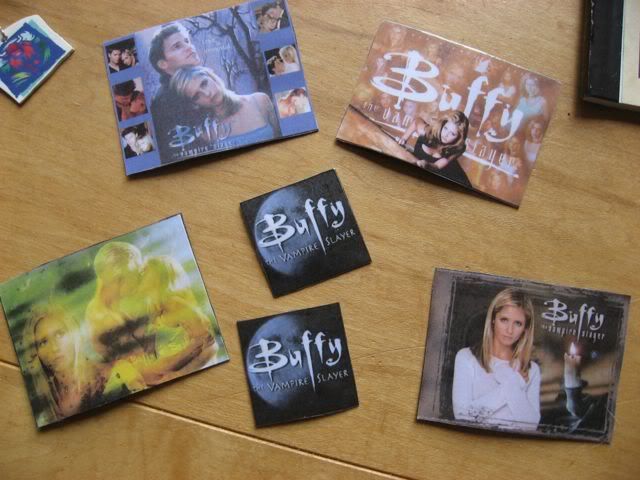 notebook: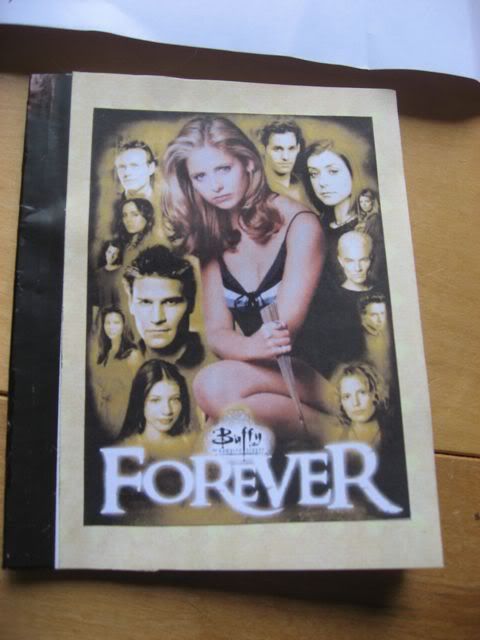 handmade soaps: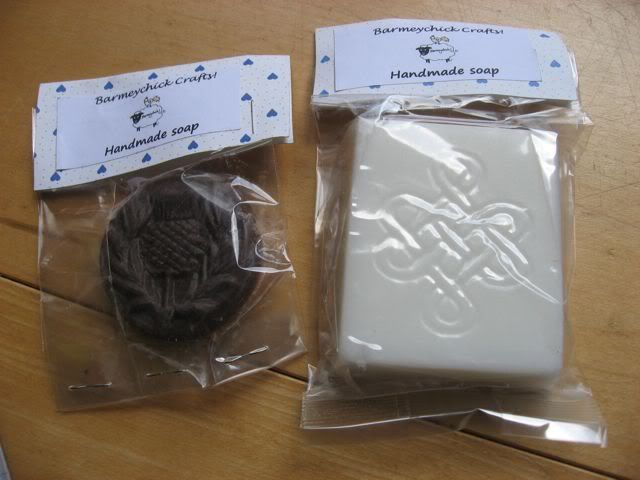 closeup of the yarn for the crochet pattern: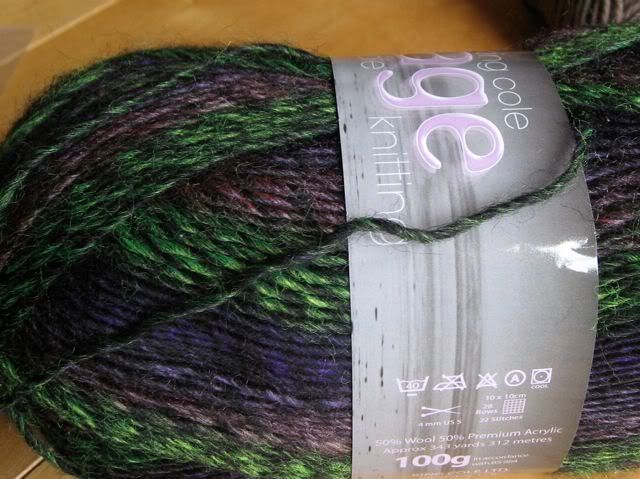 Thanks baa-me-chick - I loved your MYB package!! I hope you'll have fun unpacking, too (last I heard she waited for a new camera before unwinding the ball.. )!