I'm thinking about dreading my hair, but I usually keep it so short that I don't know if I have the patience to let it grow enough to start. You guys think that my hair's about long enough that it won't look horrible right now? These are pretty recent pictures:
It's about 3 inches long at the shortest part.
You should really wait till your hair is longer to dread it! If you do it at the length it is now you'll end up looking like this...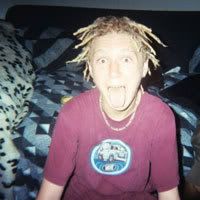 ...and I don't think any girl would want that.
If you absolutely can't wait to have them I'de go to a salon and ask them to "wrap and lengthen" your hair or get a dreadlock weave. With the "wrap and lengthen" they wrap your existing hair with human (really expensive, lasts longer) or polyester (really cheap, have to redo every 3 months) and if you want long dreads they just keep twisting it past the point of your normal hair till you are at the length you want. It's sealed with beeswax like normal dreads only you can wash your hair with them. A dreadlock weave is almost the same but they sew the hair into your existing hair and then dread it. It's more expensive and you can't wash it that often. (It sucks either way because if you don't wash it, your hair smells like shit, and if you do, you end up with cramps in your neck because the hair is 3 times as heavy when it's wet.) I used to have dreads and I cut them when they hit the middle of my back because it was a struggle to care for them. Plus, if you try to comb them out when you don't want them anymore it hurts like hell and you end up with bald spots and fried-looking hair. You eventually end up having to cut all of your hair off after hours of combing because it just isn't worth the pain. They look awesome but they're alot to put up with. Now when I want my hair like that I just go to a salon or have a friend do them. They aren't permanent and still look badass.
If you still want the real thing, wait until your hair has at least grown out 5 more inches. This way you'll looks wicked and won't have to worry about people calling you sideshow bob.
Hope I was of some help...