coming back from moving stress and lack of internet, i've got an art yarn this week! =D

mermyd hair (31.2yd)



and an artsy shot (showing that lovely purple bead)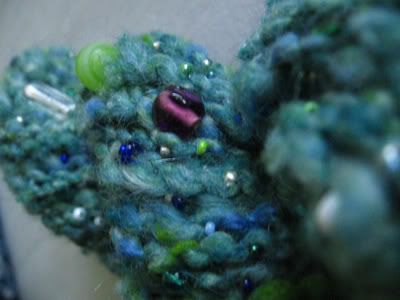 there was a bag full of blues and greens of peace merino (?) roving balls at a cool little place called the knitting nest. $5 a ball, $30 for the bag, i almost exploded. XD
i started spinning this up before i got my carders this week (at the other lys, hill country weavers), but it was just half of one of the colors. i'm carding up bits of the rest of the colors into rolags to make a single sister yarn, which will hopefully be longer. x3
anyway, the beads are from my bead box (i have a massive amount of beads and still more in boxes i have to dig up) and were threaded onto some thread, which was then plied with the yarn. :]

i am so excited seeing everyone's yarn this week!