I'm trying to make my own tank top, but don't have a pattern. I think i've figured out a simple way to do it, but could someone tell me if this wouldn't work for some reason?
here's a picture of what I'm thinking of...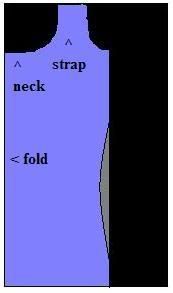 I would take a piece of fabric and lay a simple pattern, like the one above (the blue part being the pattern, on the fold and cut out two. simple enough, right? but would it work? I think I'll try it with some left over fabric I've got lying around.