For some reason I got it in my head I wanted to make an octopus amiguri yesterday. I looked on the web for some inspiration and came up with this.
I also finally saw Little Miss Sunshine last night. After a bit of contemplation on what I should name my octopus I decided Olive was a pretty fitting name. It sort of looks like an olive with pimento eyes, doesn't it?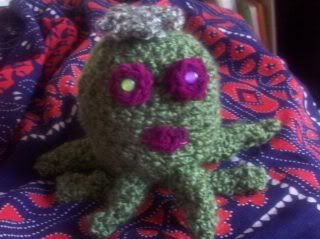 Here's a picture of Olive reading Harry Potter 2 with my SO, who is rereading them all in anticipation of the last book's release
next
this month.
Thanks for looking. Hope you like it.