so this is the best-worst costume (or worst-best) I have ever made. By that I mean - I whipped these guys together in a few hours and the stitching is totally not finished but I think they are totally awesome and hilarious.
Here's the finished product:
If you're not familiar with it, Sparks is an alcoholic energy drink that is very delicious - it is sugary and not gasoline-y as some other alcoholic energy drinks are. My boyfriend and I drink a lot of this drink... it's become our little thing. So for Halloween we decided to go as different colors of Sparks.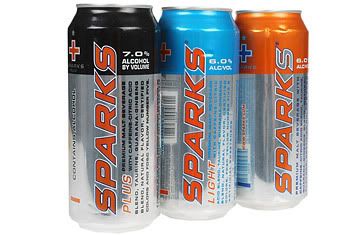 The orange sparks is the original. the blue sparks is sugar-free sparks, or "sparks light". the black sparks is "sparks plus" because it contains more alcohol AND more taurine (I believe that's what it contains, haha)
Now as I mentioned before, this is the best-worst costume I've ever made, mainly because I didn't follow any pattern to make it, and cut as many corners along the way because of time. But here's a quick run-down on how I made it:
1. I bought fabric in orange, black, and silver, and guesstimated the amount I would need, which turned out to be WAY too much. I also bought some fusible interfacing, and used some extra batting I had lying around.
2. To make the letters, I downloaded a Sparks logo, enlarged it in Photoshop, and then printed out these large letters. I ironed the fusible interfacing to the orange fabric on the wrong side, and pinned the logo letters on the front. I then cut the letters out.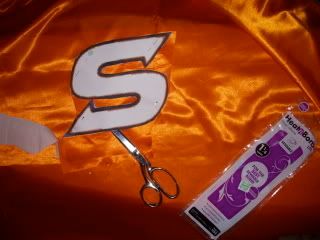 3. To make the body/can, I estimated the amount of fabric I would need, circumfrence wise, by wrapping the fabric around my boyfriend (who I used as a dress form since I don't have one) and leaving plenty of extra room in case I messed up. I again estimated the measurements on the black/orange and silver ratio, based on the fact that only one letter fits in the colored part of the can. I sewed together the black/silver and orange/silver pieces to create the can body. Then I fused the letters on to the can, and the plus/minus signs.
(note: the letters were tacked on after fusing, because fusing alone wouldn't hold it. also, if you have the patience I would go ahead and sew everything by machine, because although it's easier on your back to hand-tack, it takes FOREVER. luckily the bf can sew.)
4. Now I had two big, flat cans. I cut armholes (I do believe this is the most free-form sewing I have ever done!), again measuring both costumes on my boyfriend (we are relatively the same size). I then used some batting that I had to line the inside of the costumes, folding a hem over the top and sewing through the batting. I did not attach it at the bottom, but I would have if I had more time.
5. To finish the costumes up, I pinned the two ends together in the back and did a quick seam: just like sewing up a tube!
so there's my random tutorial. although I think I could have done a better job if I'd had time to slow down and stitch, I am happy with the over all conclusion. In fact, people kept asking us all night if we worked for sparks!! I wish!