Well I was stumbling around the internet and I found a beautiful photo of a keel billed toucan
http://www.deviantart.com/deviation/54900313/?qo=46&q=by%3Athrumyeye&qh=sort%3Atime+-in%3Ascraps
And I loved the colours so much that I decided to take this tutorial
https://www.craftster.org/forum/index.php?topic=29451.0
and make myself a toucan dress!
The yellow is left over from a pinafore but my fabric store sucks so I had to go and dye the blue and green. The green was originally meant to be limey but I couldn't find the right dye and only discovered a colour mixed chart AFTER I'd finished dyeing it! Argh!
The blue was supposed to be brighter but it didn't take that strongly. And although all the fabric (except the purple which is quilting fabric) is "cotton homespun" the blue is thinner like a sheet or something. Weird.
And the photo butchered the colours - they're brighter and the purple is redder in real life.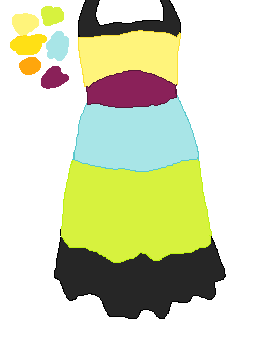 That's the original design but I decided the yellow would be seethrough so I switched it with the purple cause I'm not wearing a bra see
It's very comfy but I had two problems.
- look at the back.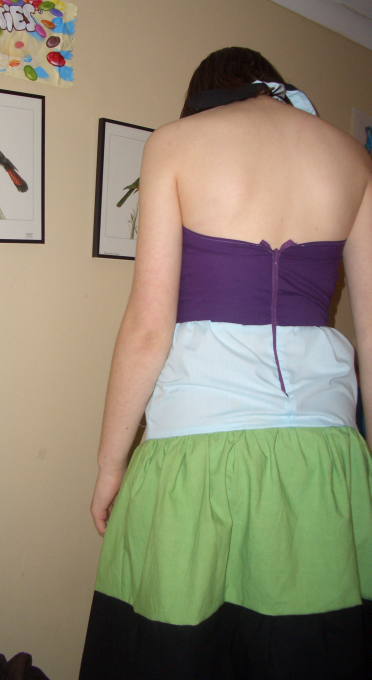 I turned the top down BEFORE I sewed the zip and it shows. Oh well.
And, I was NEARLY done when the sewing machine broke! ARGH! SO I hand sewed the straps and part of the green/black seam.
I'm happy though and I hope you like it. Now I finally have a dress that fits for summer!