Hi,
Just got this yesterday from my friend Nan for spinning her some yarn [she's a felter and didn't need all the left over roving and such and wanted to help another fiber artist out...I see nothing wrong with that lol]
This is the yarn I spun for her, she wanted a worsted weight to knit into a hat for her husband out of it because the roving consisted of Baby Llama and cormo, it was so soft, and the llama who's fiber was in it, is her husbands favorite so I thought that was sweet
EDIT:
It was an accident so I can't be all that mad...but dad decided to do some sring cleaning for some reason...IN THE SUMMER....and threw away my big bag of fiber that I got...it was in a trash bag and I thought I marked it with a sign...oh well, I managed to keep my Masham out on the table...so I still have a lb. of that left....this really stinks, especially since my fiber store is 2 hours away and is closed all this month. *hits self in head now*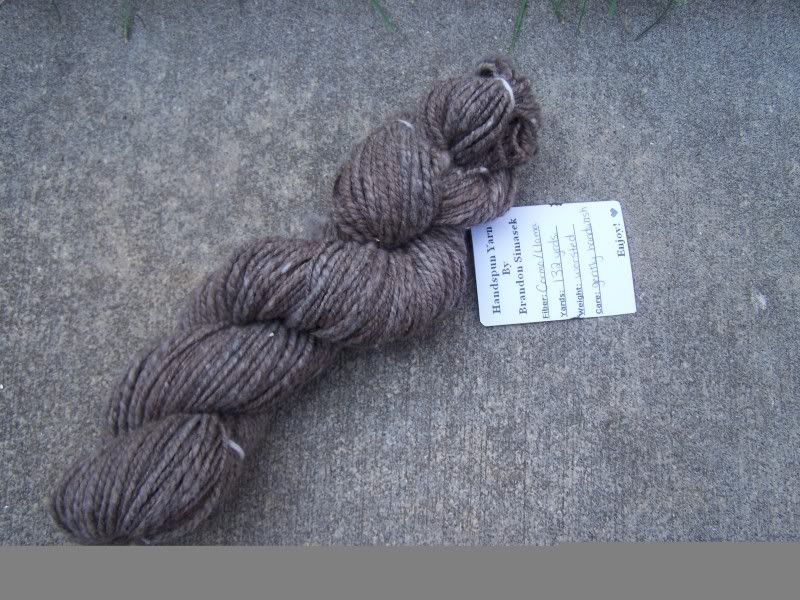 This is what I got for it:
1 Lb. of random wool, 8 oz. of Llama/Shetland mix, and 4 oz. of kid mohair and border liecester lamb locks
1 lb. of Masham wool top, imported from England [I had never heard of this before and thought it would be a really rough and course yarn but it turned out other wise], and samples for me to try of Ramie, Angelina, and Jute [I'm going to her house this wedsday and we are having a felting/spinning day and she said I can go through her stash and take what I want!]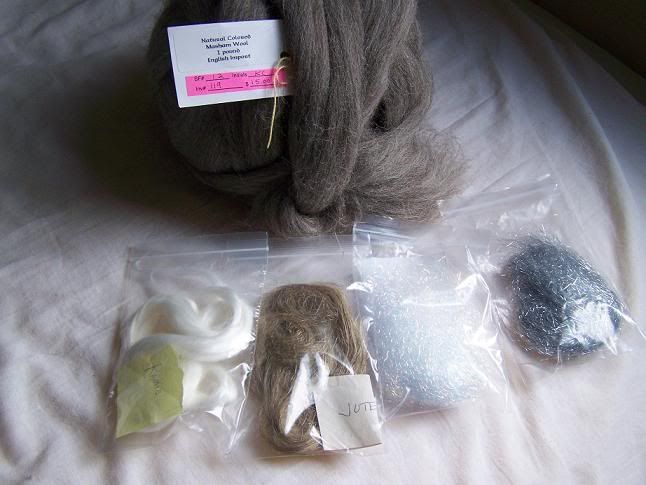 and finally, the colorful stuff is 100% merino top, my first time and I just have to say I love it. here it is spun up.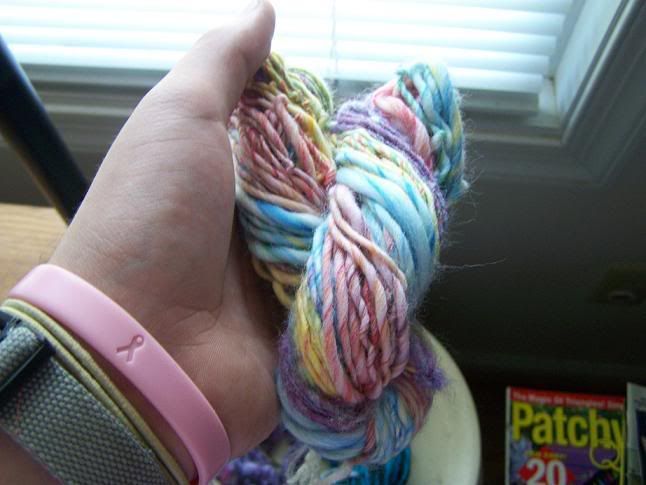 I have started to blend and spin with my hand cards and louet s10 the border lie.+angelina+kid mohair and it's comming along nice and now I have started also to spin some of the Masham. It's a course wool but doesnt feel course up against the skin, it's very warm and will make a nice, heavy-duty sweater or hat or sock yarn
I don't know weather to ply it or just leave it as a single and knit some socks with it. I have a pound and am spinning my first single of it at almost the finished weight and thickness of a finished, store bought sock yarn. What do you think? Thanks, hope I didn't bore you lol
p.s.- I will post pictures of the finished yarn and batts I have made tomorrow or monday, my camera needs new batteries and I have to go buy some since I cant find my battery charger!