I got my swap package from Phizzychick yesterday all the way from England!! I love it!! Here is a picture of everything except a magazine and a few papers...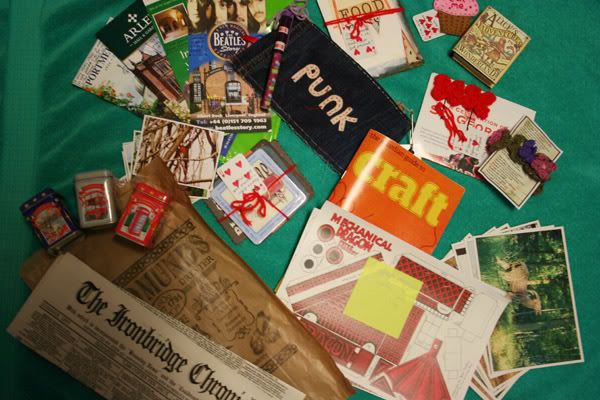 and a few close-ups of some of my favorites...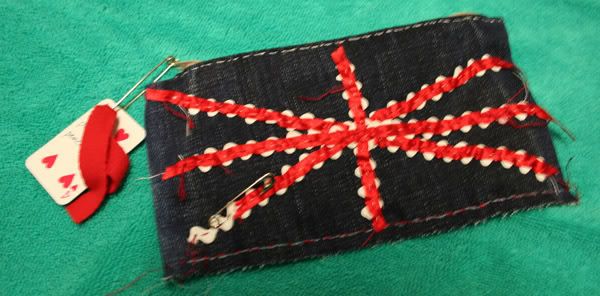 Phizzychick outdid herself! Everything has cute little playing card tags or post-its attached which explain what each item is! So cute. I received...a "punk rock pencil case" which she made which is really adorable...as you can see by the two pictures that it's in, it has a British flag on one side and "punk" written with felt letters on the other. This is great to me because last semester at my university I took a really amazing class called "A History of Counterculture" and we actually studied about the history of punk rock and its beginnings in England and New York! Pretty neat. Other crafted items: a super neat fold-out book labeled "FOOD" which tells about English food, past and present! It's so neat and artsy. A felt cupcake pin which says "Eat Me" and a miniature copy of
Alice in Wonderland
by Lewis Carroll, one of my favorite writers! Beautiful photographs which Phizzychick took of her area. A knitted (crocheted? it's so tiny I can't tell!) flower bracelet with a cute little poem. Bright red knitted hair clips and a paper about St. George, the patron saint of England! Other items include many little local brochures (I love the Beatles one!! I grew up listening to the Beatles and we also studied about their history in my Counterculture class), a magazine called Craft which mentions Craftster!, a set of postcards, a pen, coasters with Beatrix Potter images and from local pubs (so cool!), a replica of a newspaper dating back to the 1800s!, and a paper that you cut out and use the parts to assemble a Welsh dragon (a Welsh art historian spoke at my university a few weeks ago and I thought his accent combined with his wit made the cutest combination ever!). And, one of my favorite items...three tiny tins of English tea! They made my whole package smell good and they are so cute! I love tea so I can't wait to make some!!
Thank you so much, Phizzychick, I love everything!!!