The idea came from Jezebelfreek, with the clocks she made. I loved the idea, however, I thought all of the black didn't seem to balance out the value. So, here are the Christmas presents I made my friends. (I made a bunch of them, but these ones I loved the most.) These were all painted with acrylic then sprayed with a matte finish. The clock pieces I just took out of clocks from the 99 cent only store, my favorite place.
Aquabats for my great friend, Amanda. I originally made her something different, but we were going to see the Aquabats, so I wanted them to sign it for her.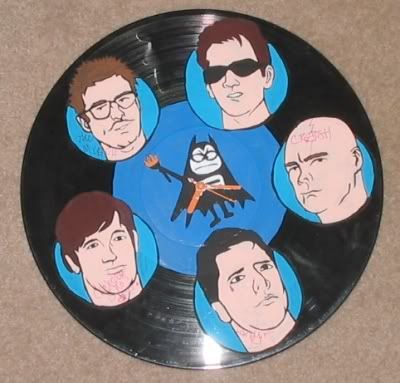 The Bouncing Souls clock was for my boyfriend, Tony. Since it turned out so great, I told him this is the one thing I get back when we break up. (Not very optimistic, but I just think its amazing.) The Horrorpops is for my friend Kendra. It just seemed like an awesome thing to paint. (Don't worry, I put another coat of white paint where it looks kind of orange before she got it.)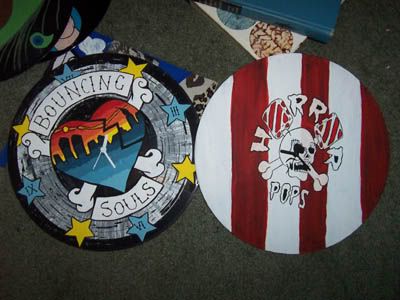 This chair I just picked up at a thrift store for 5 bucks. It was tan and really dusty. I sewed the leopard on the canvas (not an easy job) and painted the black with acrylic. I spray painted the frame blue. I love it!