My old store-bought bag that held my clothes pegs finally died (I guess it didn't like being outside every winter) so I thought that I would crochet a new one.
I thought it would be fun to put a clothesline filled with clothes on the bag so this is what I came up with.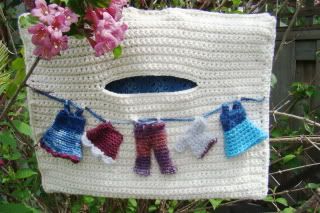 The bag itself is super easy, it's really just a large rectangle with a hole in it.
And the clothes are simple shapes made with pretty yarn.
I'm really happy with how it all came out so here is the free patterns:
http://sukigirl74.blogspot.com/2009/05/how-to-make-crochet-clothespinpeg-bag.html