So my husband is in the US Marines and deployed to Iraq (for 7 months) October 4th. To keep him warm and cozy during the cold winter nights I decided to make him a quilt he could take with him and destroy (you know how men are). It's log cabin in Quilter's Cotton and batiks and the underside is flannel. I pieced it together and the guys from Bear's Quilt Shop machine quilted it for me.
That was before it was quilted and this is after...I couldnt really get a decent shot of it because he wouldn't let go.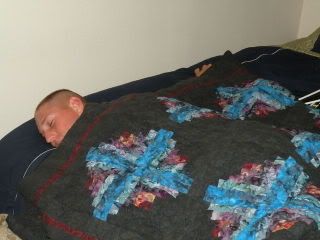 Thanks for looking!
ETA: I suppose I ought to mention this is my first finished quilt. So..It's my first finished quilt!!