Finally! I was able to get all the pictures edited and uploaded sooo here we go:
First up, a wand AeonGoddess had her father make me. The body is ash, and the handle is antique oak. Isn't it lovely? It just, fits, and I know everyone knows what I mean.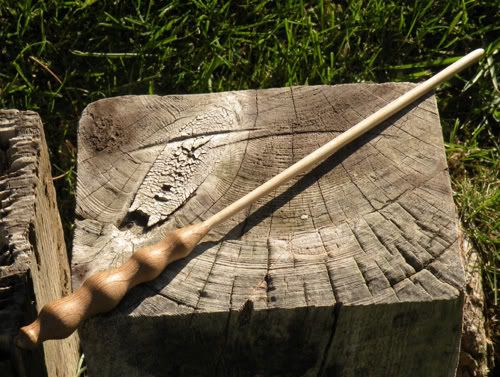 Then she made me a Leaf scarf (her first non-granny square crochet project!) to give me a taste of what a real Autumn could feel like (it was 84 degrees today so I can't wear it yet). There is shimmery threading going through the yarn but my camera didn't get it quite in.
One that I absolutely adore and love is the Celtic Card Deck she sent me. I've used it several times already and have had wonderful results!
And then a gorgeous hand knit, hand embroidered bag with beautiful bracelets that were tucked inside!
I was spoiled rotten!! Thank you AeonGoddess I love it all!!!