Just finished: the third wallet to be destroyed by my boyfriend
Closed, front view
My attempt at a new method to keep his 300 id's/cards actually
in
the wallet.
A closure will be added after everything is in it and its at its full thickness... i can post pics of that later.
Comments appreciated, thanks for looking!
As promised... its tutorial time!
Step 1...
cut out the pieces...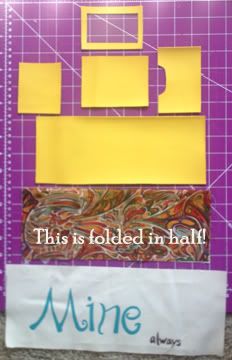 from top to bottom... id window frame, id window plastic, pockets for cards (
cut slits for cards
), outer vinyl, outer money/card pocket piece, inner pocket lining (secret message not necessary)
Step 2...
take your outer pocket piece (the doubled over fabric... you may want to iron some interfacing between the layers)
and pin the card pockets to
ONE LAYER ONLY
and then sew them on to
ONLY
that one layer (it would still work if you sewed through both layers, you'd just be able to see the other side of stitching when you put money into the wallet...
Might be worth mentioning that the folded edge should be the top, to avoid extra sewing.
Step 3...
position the id pocket on the outside of the wallet and sew it on! Remember to keep one side open!!!
Step 4...
flip your outer piece so that right sides are facing and sew to your dimensions. Don't forget to leave a small opening so you can flip it right side out and to clp the corners! Oh yeah, and then sew up the hole thats left behind.
Step 5...
take whatever fabric (if any) you are using as the inner lining for the pocket, fold under the edges (iron if you want, it helps it keep the shape) and just sew the top to the outer vinyl for now.
Step 6...
line up the outer pocket piece with the piece you just sewed (the outer vinyl and inner pocket fabric) and sew every side but the top. the cloer you stay to the edge the easier it will be.
Not included in the tutorial: Any type of closure, so be sure not to forget if you want one!
Hope that's pretty easy to follow, let me know if there's any confusion!