So back story to this beautiful blanket. I have a friend who was in the military. He was stationed in Georgia, and we are from Houston. I made him this blanket and shipped it out to him about 2 years ago I suppose. It took me forever to make. Well he kept it for a long long time. He just moved into a new apartment and I suppose that his dog didnt like the new place, so he destroyed the blanket. I figured its about time to make a dedication thread to it.
I promised to make him another one.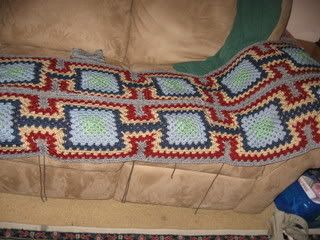 That is the pic with the best coloring.
Completed blanket.
Its gonna take me another six months to finish another