Absolutely and shamelessly inspired by this bag:
https://www.craftster.org/forum/index.php?topic=186979.msg1958906;topicseen#msg1958906
I needed one of my own. NEEDED. Needed. So actually the night after I saw the original I went nuts, grabbing Target bags and my iron and making
this version
in, like, two hours. I loved it, but it was missing something. It didn't look finished.
I wanted piping, but I couldn't find red vinyl piping anywhere in town, and I didn't know how much I needed so I was hesitant to order any online. I finally settled on some neato string/yarn trim I got at Hancock for 50 cents a yard (and I needed three yards!)
And still, it needed more! Lucky for me, I spent three years working at Target, so thusly I HAD more! Hurray!
So now I give you, it's in final Target-dorky-form, my I Love Target Too Much bag.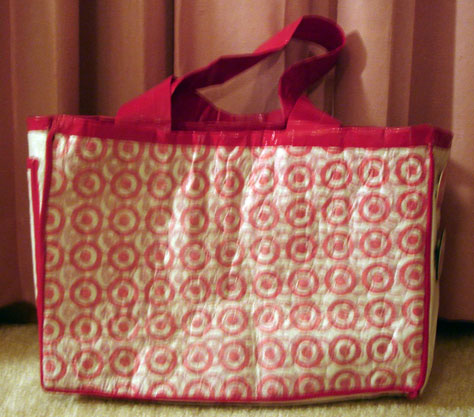 The front.
The back, more of the same.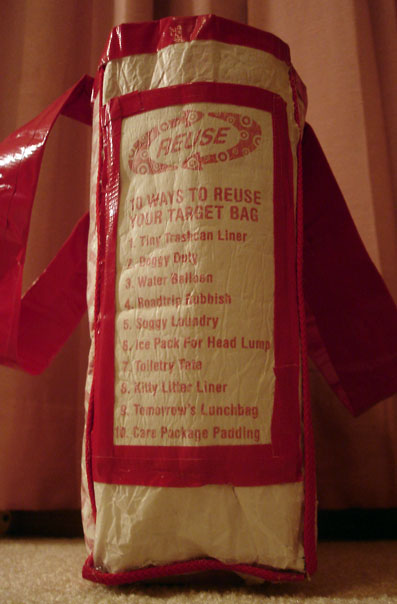 The pocket, which is now much more secure than it was in the original version. I love this. I'm so glad we had the older bags with the big list on it (the new bags only have small lists.)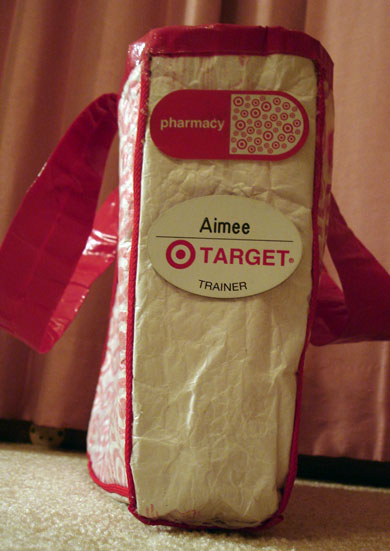 And the dorkery side... I have four different versions of my nametag (my original with the Target pin you got after a year, which they no longer give out... no pins on any badges, they wanted uniformity); a regular nametag; a generic one with my store's number on it; and two that happily proclaimed me as a TRAINER (team trainer! yay!) I used the one I had duplicates of (actually, my pin one is in my scrapbook I think.)
I also had the hilarious pharmacy badge that they made us all wear for a month during a pharmacy promotion. I love it.
I also switched the straps so they didn't cross between the bag. It only took one shopping trip for me to realize that was stupid and wouldn't work, LOL.