So my craftster friend Superhooker apparently decided she didn't need to have a life outside of knitting for a few months... the result was this awesomely amazing baby gift package I received over the weekend. My heart is still jumping with joy over the beautifully knitted items she made for my little Katie (who is arriving in about 2 months)! I've already gushed to her in a thank you note so I'll try to keep that to a minimum here and just share the lovely knitted goodies Superhooker so lovingly created.
A beautiful jacket and hat set that will be perfect for our Michigan winters - I'm super excited about this one! The colors remind me of the amazing Michigan fall colors and the yarn is so, so soft.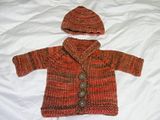 A beautiful cardigan in a wonderfully soft brown yarn. I love my girly clothes for Katie, but I love that this is a neutral color for those days when I just can't take any more pink.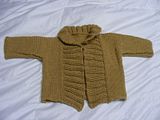 An adorable pink shrug - I love the detail on the back! I anticipate that this will be a frequently worn item in her wardrobe. It looks perfect for layering over a onesie.
These adorable pieces that will be perfect for this spring! Love the pink buttons with the green yarn (and the pattern, this piece is just TOO CUTE!), and the green/white cardigan is so cheery! I picture Katie at an easter egg hunt wearing this cardigan.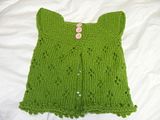 Two of the most adorable baby knit sets you will ever see. I think the cream tank and booties may be Katie's coming-home-from-the-hospital outfit.
And the green hat and socks are so frickin' cute in person!!!
A gorgeous piece in the most amazing yarn - I love the colors in this!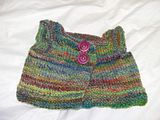 A super-cute cardigan that is one of my favorites. I had to get my hand in there so you can appreciate the teeny-tiny-ness of this cutie!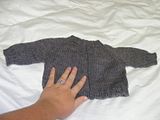 This beautiful pink and yellow blanket - I love the heart detail in the corner! This one is going to the hospital for me and Katie to enjoy during our first couple of days together. I think it will be perfect for cuddling under during our nursing sessions.
And an amazing blanket in the perfect colors! I love that it has some pink in it to keep it girly but also has some strong masculine colors in it, too. It's the perfect blanket for our nursery - see how well it fits in?
Superhooker, like I told you already, your generosity completely overwhelmed me (in a good way!) and I can't even begin to thank you for the effort and time you expended in creating all these wonderful heirlooms. You are an amazing friend and I am truly blessed to have you in my life. Katie is going to be the best-dressed Craftster baby for certain!