Ok, after visiting this page nearly every other day, looking at the charts in the magazine for about a week, and petting the intended yarn for a little over two weeks, I decided that I couldn't take it any longer!
I don't have the money to get the rest of the yarn as of right now... and I don't even have the recommended needles, but I just had to work from the chart! So I pulled out my size 1s and got to work on a simple 31 st piece... then switched them to size 2 dpns that I remembered having. I worked one chart repeat, and I'm in love!
Since this is my first fair isle, I'm not even sure I'm doing it correctly- see if you can see any inherent mistakes. Also, how does my carrying look? Is it necessary to twist the yarns when switching, as in intarsia? Or is it enough to just drop one yarn and pick up another? I'm learning a lot, but I'd like to know as much as possible before I jump into the full pattern in the next few weeks.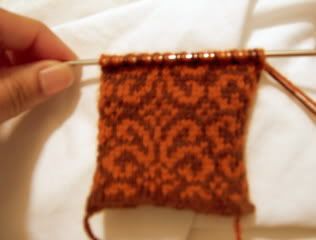 Front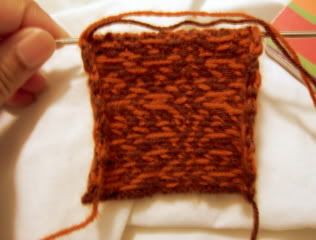 Back
They're a bit fuzzy... I guess that's what happens when you're too anxious to wait for a little sunlight!