My husband had an old lazy boy rocking chair that has seen better days. First, the color doesn't go with anything. Second, my cat used it for a scratching post. Love the cat, hate what he does sometimes. But, the chair is really quite comfy!! We had it around still, so I thought that I'd try to make a slip cover for it so that we'd have a chair to use during feedings or when we rock the baby.
Here's a before: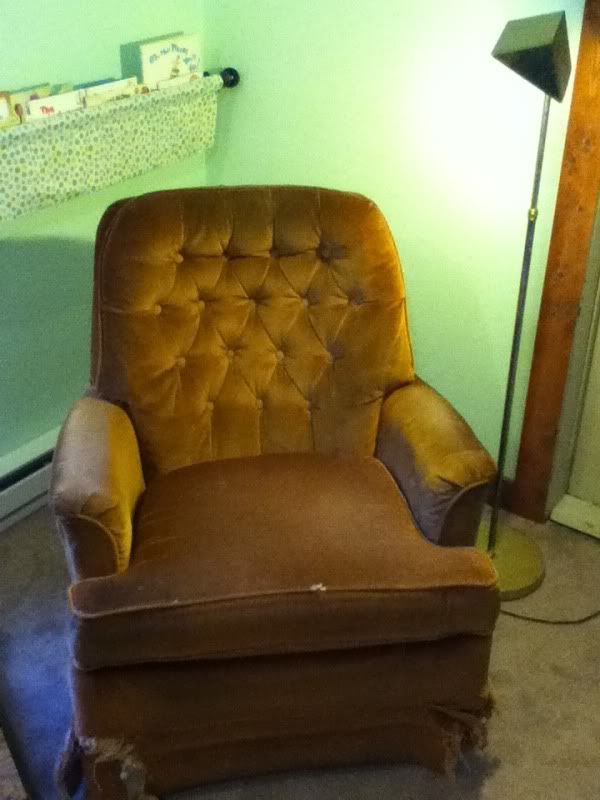 And after: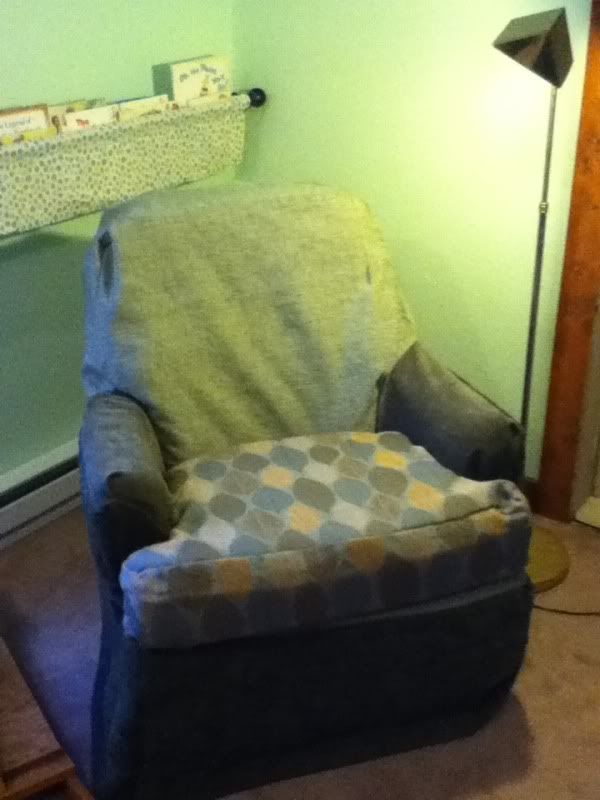 Fortunately the chair is pretty forgiving. I could tuck the cover into the seams/gaps between the back and arm rests. That allowed a little extra maneuverability. The seams inside the cover aren't very pretty. I would like to double stitch them and apply some no-fray glue stuff. I would imagine its only a matter of time before the baby hurls and stains the fabric. We'll want to wash it now and then. The seat cover is lined, that fabric was heavier and frayed more easily. There is a spot or two that I'll have to hand stitch. I had difficulty navigating where all the different pieces would come together at a curved point.
My technique probably wasn't 'proper', but I think it turned out okay.
I have a footstool that I'd like to make a cover for. I registered for a gliding footrest, so I might hold out and see if I receive that. That'd probably look a little nicer. The footstool that I bought isn't as pretty, but it was only $5. With a matching cover, it'd be okay!
Here's the chair and part of the nursery: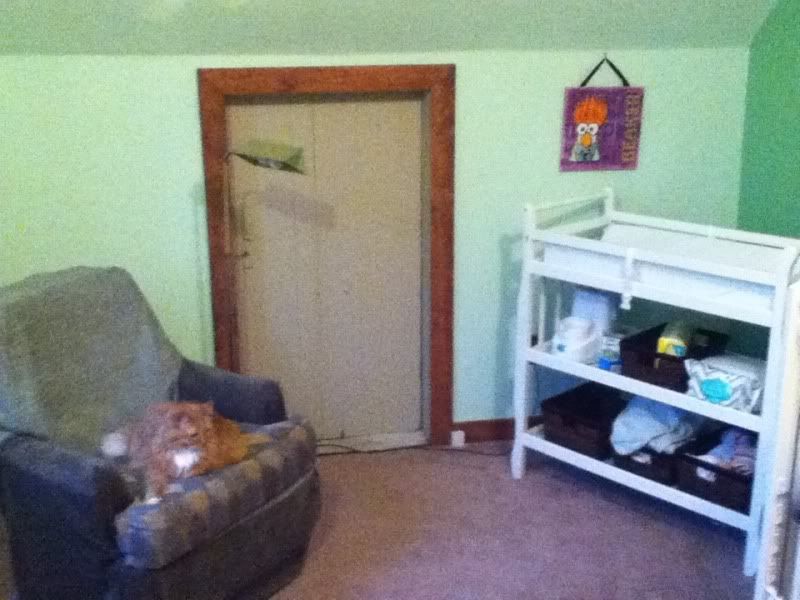 The cats have always liked this chair. I constantly had to kick them out of it so that I could redrape the cover and pin pieces/check the fit. The chair was in place for less than 5 minutes and my cat Pixel was in it.
I also made the book rack that you can see behind the chair. I think that I saw it on pinterest, or maybe somewhere on here. The example used wooden rods and double curtain rod brackets. I found this decorative double curtain rod set at Wal-Mart and sewed the pocket for the books.
I might make a pillow that drapes over each arm rest... instead of a boppy, the chair would just have extra padding. We'll see how ambitious I get. I'm due next Tuesday, finished the cover yesterday and am pretty tired today. If the baby doesn't arrive this weekend, I'll probably work to clean up my craft room after this project. And, I suppose, the rest of the house.
Thanks for looking!