Nilmerg - I hope they are not swimming across!
extras from Pogo......I love them!!!!
So glad you liked them, I saw you were interested in typography. Glad you approved of the word.
Oodelally - glad you liked yours too!!
Those cross stitch inchies are so cute. I kinda want to see a whole alphabet set of them! How long do they take you, Pogo?
My time quote is probably going to seem ridiculous to other crafters but probably an hour or more for each. I only re-started cross-stitching from when I was a kid last month though, so they went a bit slower than intended...for being so tiny.
Eamea - glad you liked the silver pen and check out that song, it's great!
And now - all my inchies are received with these extras from crazyalien8! She crafted up many of my favorite things: trees, birds and leaves! Thank you! [With your lack of spare time you should do a tutorial so I can learn how you get so much dimension into your inchies!]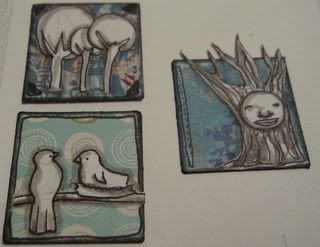 Thank you again to all of my swap partners for a great swap!