I just make a hat, any style then I attach the yarn wherever I want the flap to start.
I sc across for how wide I want it then with each row I do a decrease for the first and last stitch until I end up with one stitch at the tip. (Ex. Row1 - 10 sc, ch 1, turn, Row2 - sc 2 together, sc in next 6 st, sc 2 together, ch 1, turn, Row3 - sc 2 together, sc in next 4 st, sc 2 together, ch1, turn) Continue until you end up with one sc in a row. (It should be row 6 if you start with 10 sc in base row.)
I then fold the hat in half so I know where to attach the second earflap. I like to have them closer together in the back instead of perfectly centered on both sides. You can tell in the first picture what I mean.
For the pompoms I used 6 strands of yarn and stuck it through the final sc at the points of the flaps. I braided them and tied a knot at the ends. Then I attached the pompoms by treading the string up through the knot at the end of the braid, cut the ends close to the knot and hid the rest of the string up through the braid.
This picture kind of shows what I mean.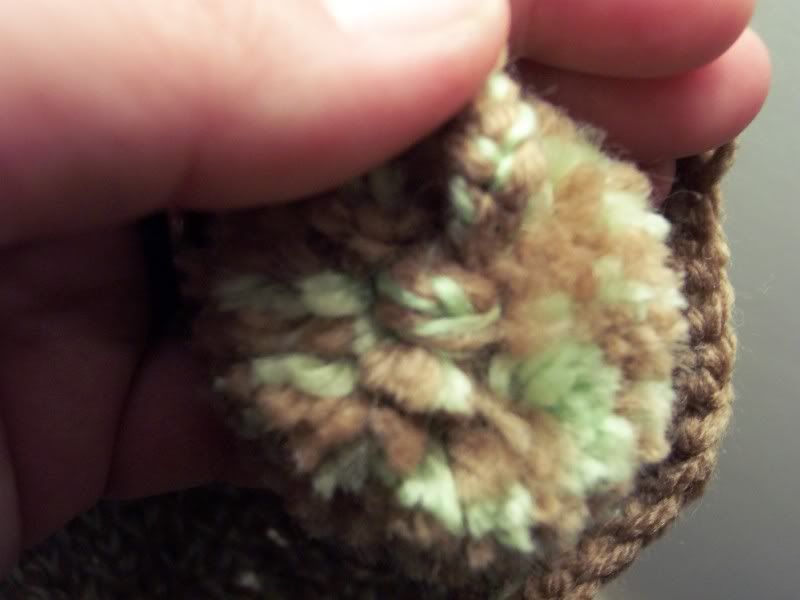 (You can see the knot and how the ends are cut short. The pompom then hides the ends.)
When I read all of this it sounds confusing. Sorry, It's my first time trying to explain how I do something like this. Let me know if you have any questions.