Holy crap. I got the best package EVER (I know, I say that a lot, but I really really really mean it!!!) from my most favorite craftista, Peachcake. I *heart* Peachcake!!
Look at all of the wonderful things she sent me!
The whole lot: An adorable little bag with cute candies and cupcakes on it (that is sooooo being used starting today!), Koala's March and Hello Panda cookies (the koala ones were on my wist....I have fond memories of buying those at a little corner store when I was in 2nd grade, and I haven't seen them anywhere since! Oh...and they're YUMMY!), a set of 3 gocco-printed owlettes that she ordered for me from Craftpaca's Etsy shop (they are too adorable for words.), a pirate cupcake (complete with eye patch and pirate flag.... I am in awe of Peach's talent *awe*), a cute little shroomie, a pair of Peach's signature squiddy earrings (ahhh!! I love them!!!!), and some Hello Kitty hard candies..... See? Peachcake is the most awesome ever. End of story.
Closeup of my pirate-cake (sorry its blurry...I took these pictures at like midnight last night because I was so excited):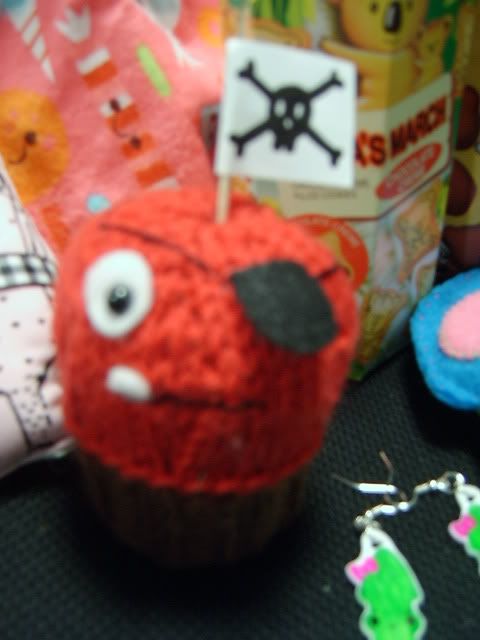 And my cute little squiddy earrings: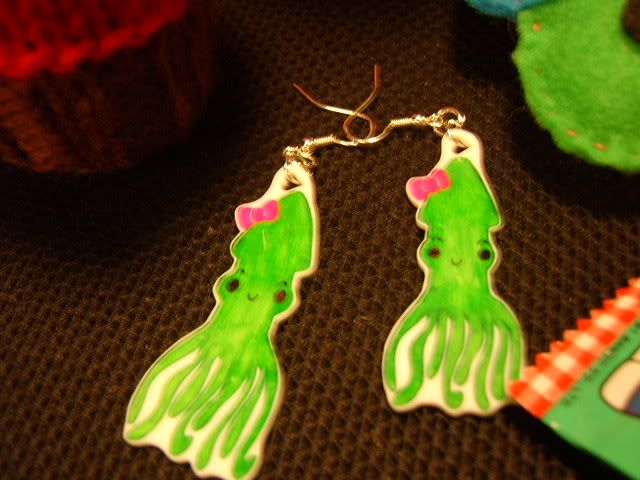 Thank you Peach!!!