I finally made some crochet charm thingies! This idea has been puttering around in my head a while, because I'm sick of taking the hook from one project for another project and then going back to the first project later and forgetting which hook I was using. They're not fancy or perfect, but they'll work and I think they look pretty.
I made two sets for the hooks I use most often, but I plan to make a few extras and probably one each for all the other odd hooks I have.
This is actually my second attempt at making these, the first one I just used cheap beads that I had, and it looked like crap. I went to Hobby Lobby yesterday and while wandering around I ended up with a handful of beads and realized they'd be nice for this project. (That place is terrible for me, I go in for one thing and come out with everything.) So far I've just tested them on some spare yarn and they work well for my needs. The clips aren't the greatest, but I couldn't find the right size lobster clasps, but when I get some it will be easy to switch them out if I want to.
Anyway, sorry for all the words. Have a picture!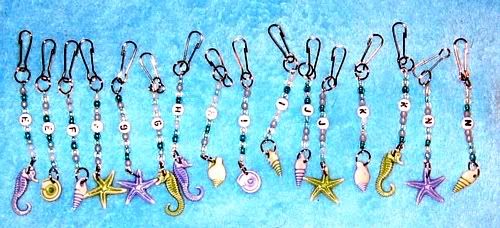 The colors are actually more pastel than they look here. The contrast messed with the colors. The beads are a mix of white, clear, greens, and blues.
I wasn't sure where to post this, crochet board? Trinkets? So here it is in misc.