Ta-Dah! My new creation... Some sort of Simply Soft in a fuschia-purple mix and purple scrap yarn.
I'm happy with it
now for pics! (there's not a pic of the whole thing laid out, but you get the idea, I think...)
Giving the Evil Eye (teehee)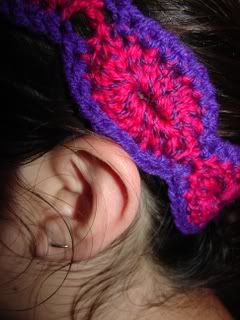 Close-Up of stitch+colors
Close Up #2
It's made up of 8 circles and ties in the back. A very simple, yet very rewarding project. Seems like headbands is my thing!!!