Well I have redone two chairs. I'm sorry, I was so excited I didn't take before pictures, and I also forgot to. Eek!
One is an office chair I got from Target, that my dogs decided to chew while we were away at work. Ahh, the pre-kennel days. Coming home to something new trashed. *sigh* Anyways, it was really bad. Leather falling off, chair fluff missing.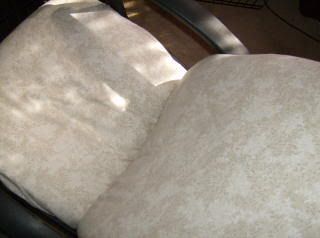 The other was a chair I think I got for free somewhere, that once again my dogs (pre-kennel days) decided to chew while we were gone. It wasn't as horrible as the first, but it was pretty bad. The wood part was an awful scratched up, and a little chewed on, brown stain. I'm sure it looked really nice before I got it.
I ran out of fabric so this is it's almost-finished stage. The back and underside are the unfinished parts, that you can't really see in these pictures. (My dog likes to model for the camera.) I'm wondering if I should use a different fabric for the back, that goes well with black... hmmm...