I was pretty broke this Christmas so all of my gifts were homemade. Luckily, my Dad wanted some new tie-dyed shirts anyway.
Click on the thumbnails to make the pictures bigger!
Green, blue, and yellow spiral. I think this one is my favorite: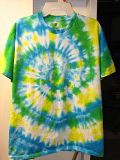 Rainbow circles/"target":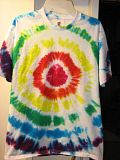 Purple/blue, yellow, and red/orange upside down "V" - I'm pretty happy with how this turned out, considering it was my first time attempting this folding technique.
Red/orange and grey stripes: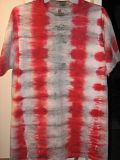 Blue and grey, crumpled. I'm going to stop using this method, I've never been very impressed with the results: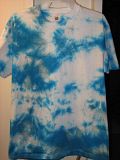 Thanks for looking!