So I was inspired by the hollywood party theme on this board, that I decided to do a "hollywood" type party for me and my sister's 18th birthday party! (Yes, we're twins). My friend just had a small hollywood party for around 10 people, and I wanted to make it different from hers, so that's why i'm having a "movie premiere" party.
I have many ideas, but I like getting input and ideas from other craftsters, or here goes nothing
So for the invitation I wanted to do something like this: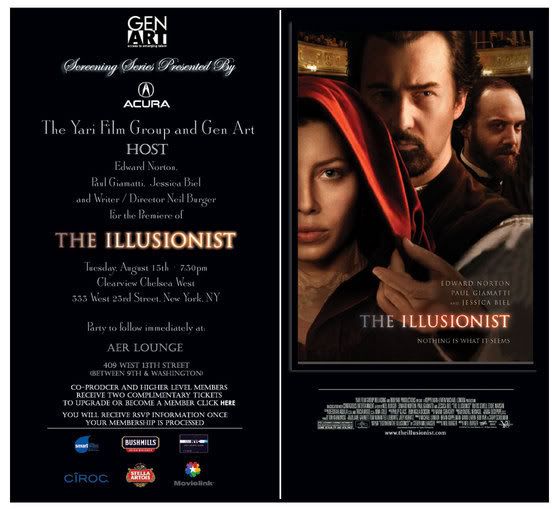 I'm going to make it look like something like this, altering the information and make it a "post-card" sized type thing and just mail it out or hand it out, whatever I feel like.
On the day of the party, When my guests walk in they will be entering from a (cheap, not expensive) red-carpet type thing, and have their picture taken by 1 or 2 people by the carpet taking pictures, almost like the "paparazzi." So I can have it for some sort of scrap book and see who came and what they were wearing.
I am also going to have a bar that serves "mocktails" (and I already have a list of these, but if you have a favorite "mocktail" just let me know
) and have a relative just bartend.
I will show the movie after about 30-45 min and announce to also get food. The movie will basically be a mixture of slideshows and home videos mixed onto a DVD where I will either show silently as the dancing goes on, or make an announcement right before dancing to play the movie and then do dancing. I haven't decided yet.
For food I haven't decided on waht the FOOD FOOD is going to be, but i'm sure I want a chocolate fondue fountain (anyone know the price for this?), deep-fried oreos, and other sweets and stuff like that.
For entertainment I will have a DJ and there is enough room for dancing, and I think that is enough to keep everyone occupied.
As far as decorations go, I wanted a marquee but they are WAYY too expensive. There is this nice looking one here: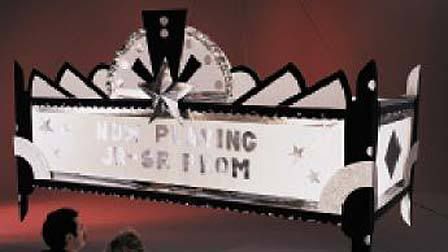 I was wondering if I could just use the styrofoam-type thing at Michael's, paint it black and silver and such, and then for the "glowing" feel, do you think I could just use white paper and put some sort of lighting inside? If not i'll just make the original idea and take cardboard and punch holes and stick in xmas lights.
Other than that i'm stumped on decorations. I have no idea what is a good color scheme. I wanted to do black, silver, white, and another color, but I don't know. I also don't know what to do about center pieces or favors. I can't do clap-board keychains because that's my friend did.
Overall, i'm trying to make this budget as tight as possible because my mom just got married this year and there isn't much to spend, but I think i'm pretty good as far as planning cheap-wise.
Any ideas as far as making my ideas better/more simpler, or adding anything that you think a "movie premiere" should have?