These are some books I made for my boy . . . I had two more but they got lost when we moved!!!!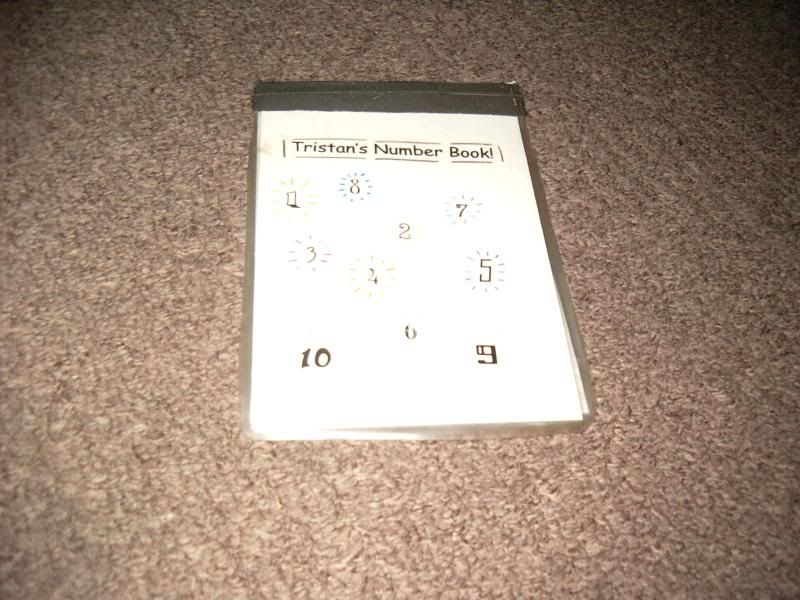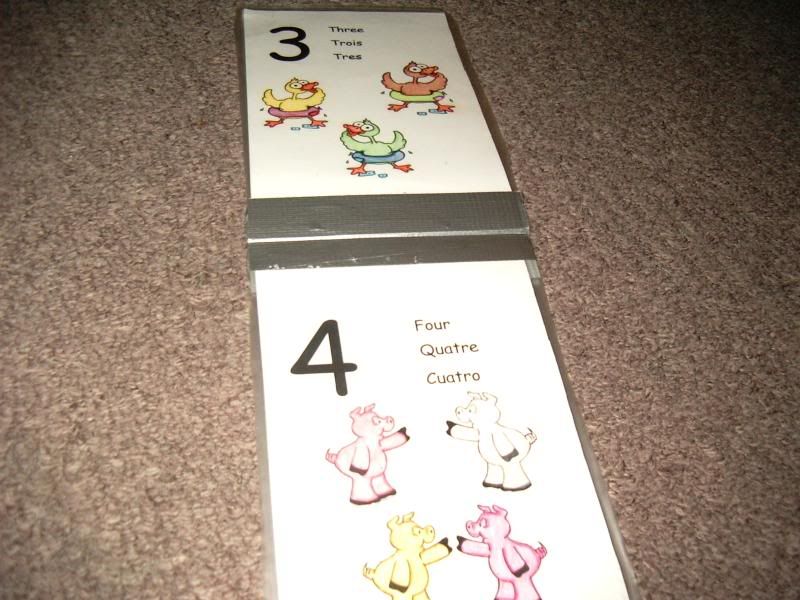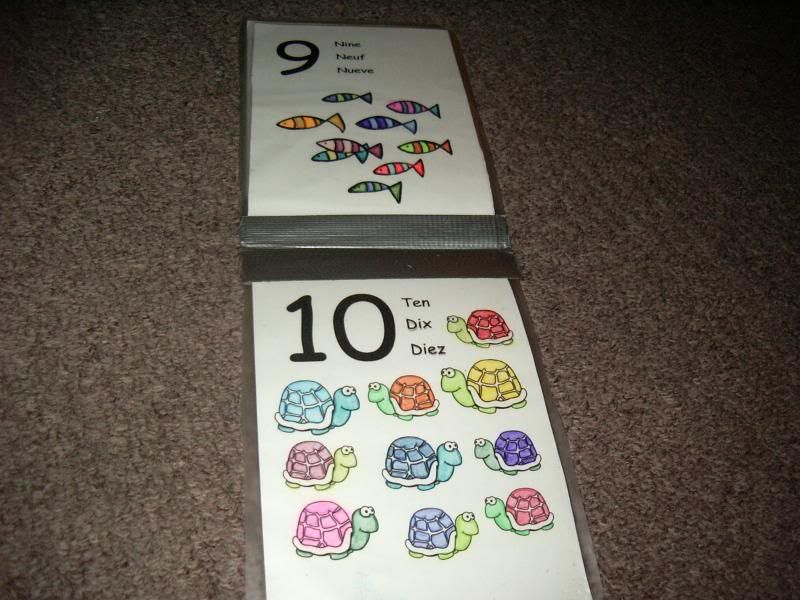 I took pics of the making of the shape book, so if anyone wants a tut, just let me know! Honestly, the possibilities are endless . . it doesn't even have to be for children!
Here is my tutorial - first one, so warning in advance, it might be a bit windy, lol.
You will need:
clear sticky shelf liner
scissors or paper trimmer (which works AWESOME)
duct tape (colours are always cool)
cardstock
After you decide what to make a book of, figure out your paper size. I just cut my paper in half width-wise and set up my printer to print as such. You have to make sure that you leave a wide margin for where the pages will be bound. Very important! You can print double-sided, but I would get too confused, lol, so I just print out each side of the "one" page seperately.
When done printing I have a set like this: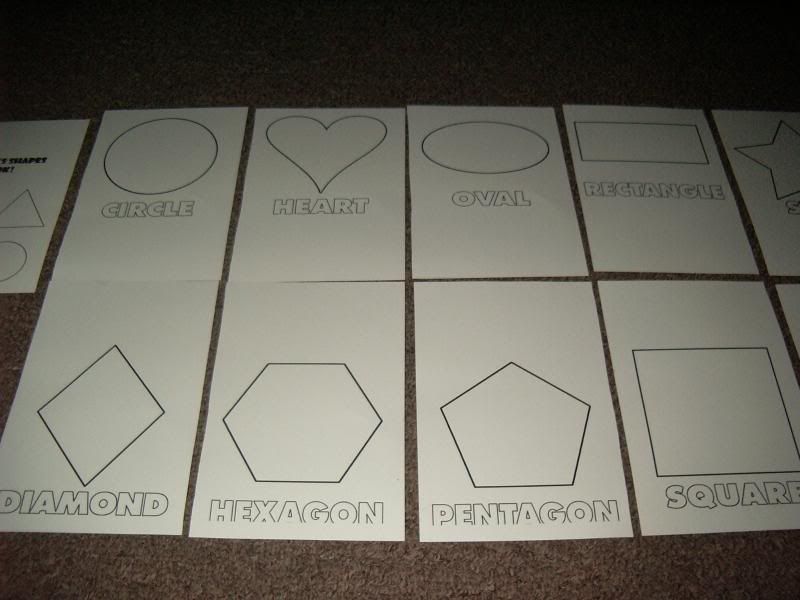 my book was lengthwise so my margins are at the top and bottom, but it is fine to make one landscape as well.
So, if you didn't print in colour, colour everything (yay!), or put your kids to work.
get your shelf liner ready . . . cut a piece big enough so it can fold back on itself with some overhand on the sides and lengthwise, about half an inch - like a pocket for the paper. dont worry about cutting straight! Peel off the backing and lay it sticky side up. Now, lay your piece (if you printed double-sided) or pieces (if you printed each side seperately) of paper on the liner
with the margined side being where the shelf liner will fold
. make sure if you printed each side that your margins are on the same side.
There are two pieces here laying on the shelf paper:
This is very important when it gets to the binding stage . . . you want a straight, consistent edge where the tape will go.
Now to fold: the margined side has a flat fold, the unmargined has the overhang
Now, for me, so I don't get all mixed up with the margins, it helps to lay down everything the same way I want the book to go. One page at a time
You can see here that "circle" is on the back of "triangle" . . hopefully pic makes more sense of margins than I do
K, now that they are all lined, it is time for the binding. I start with the first pages and work my way to the back, but for a thicker book, you will want to start binding in the middle and work your way forward from the middle, then back from the middle.
Lay your first two pages down against eachother, how they will be bound, then tape them together like this: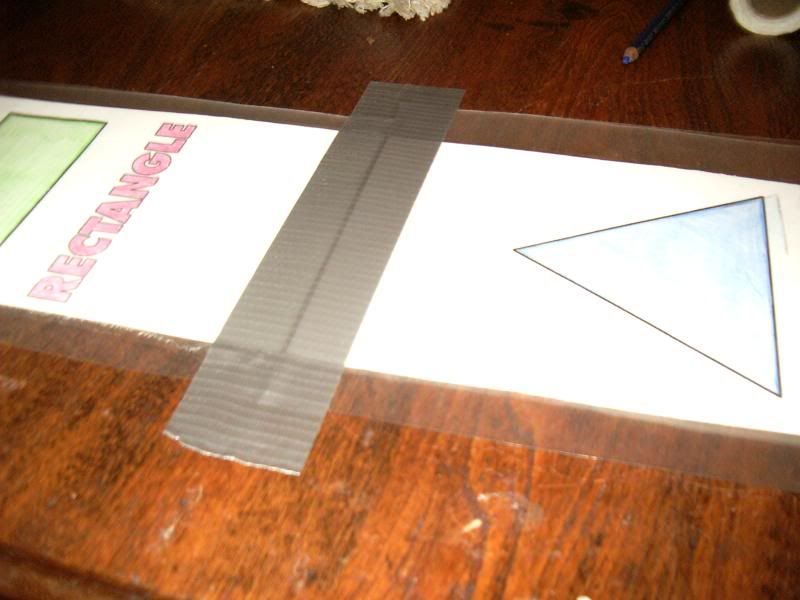 The tape also helps to hold everything in place while you are working!
Then, fold the second page over onto the first and line everything up so you have a straight edge again, and get your next piece to tape: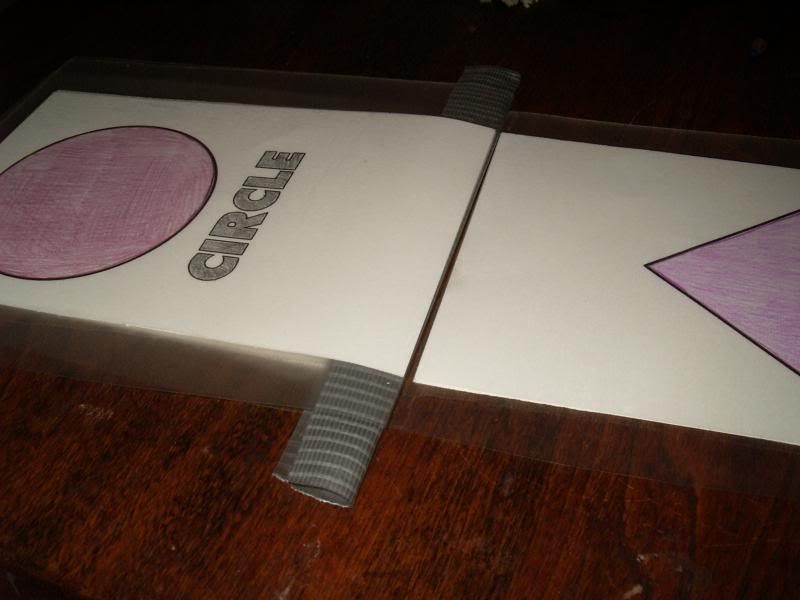 Now continue fighting with the duct tape
When you get to the end, it should look like this:
I put one more piece on the top to cover up everything and trim everything all up. Make sure you leave some overlap of the liner or the book will not be as indestructable.
Be careful with the shelf liner - It loves to pick up any ink and pencil crayon markings so it is not easy to just take it apart if you wrinkle it or something while folding it over. You will have to use a new piece.
So there you have a baby-proof, water resistant book!
I'm working on a vegetable one now. I have made him the shapes one, a fruit one, numbers, and an animal one with an animal for each letter of the alphabet. For that one, I had printed out clipart seperately and glued everything on the cardstock, so that works well too.
I had also made him a small one with photos of his dad (who was a long haul trucker and away all the time) so he could touch the pictures without wrecking them
Man, I am soooo horrible at explaining things - - - why I decided not to be a teacher!!!!