So my sister threw me a second shower, which was awesome at her house. The day before she drove down to where I live so we could do all the baking for my baby shower. It may be "tacky" (
) to help with your own shower but we never see each other because she lives an hour and 1/2 away so it was like sister "bonding" time, haha. Anyway, we both did the baking (we made cookies from the Martha Stewart cookie book, ooh fancy :mrgreen: ) but when it came to decorating the cake she said "Screw that, you're on you own. Waay too much work for me". Haha. Anyway I love doing stuff like this so I did it myself. It was my second attempt at cake decorating and I think it came out pretty good. I used a Wilton bear pan, and decorating/tips again. Also Wilton gel colors for the icing. I think I'm in love with that brand. *sigh* It was based on a little bear sticker on my invites (that I also made, I'll post those later...). I made the chocolate and vanilla buttercream icing myself again.
Anyway here it is -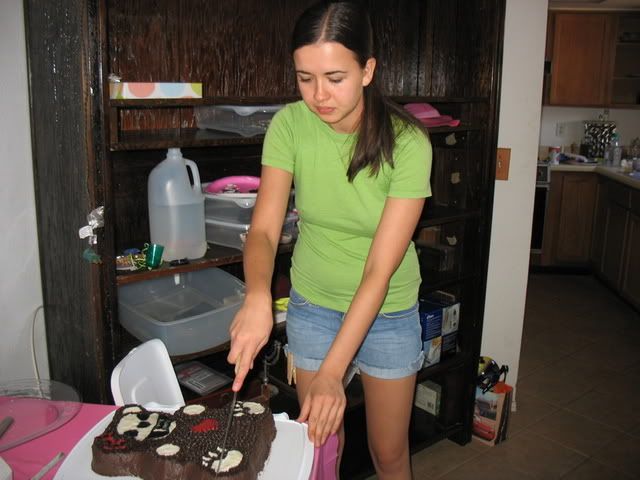 My sister cutting the cake -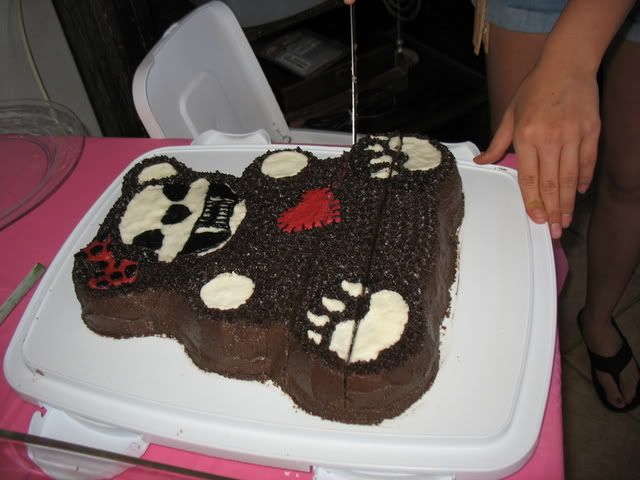 From the bottom up to the neck got eaten at the shower, I got to take the head home. I felt really bad cutting into it, well, not that bad I ate most of it that night. *yum*
Based on these little bear stickers I made (not the design, just the stickers) -
I didn't take pics untill we were about to cut it and since it was hot that day the icing got all shiny so it was hard to get good pics. The heart and bow were about the same color pink as the stickers but it photographed red.
Comments/tips appreciated! I want to do a lot more of this stuff in the future.