Made for a friend's baby shower (her little girl just turned one).
These are foam and fleece baby blocks that spell out her name...I saw someone else here do this with one block a while ago but I can't find the post again to reference it (sorry! I suck). The sides are an ebroidered cherry on black fleece fabric that I found on clearance at Joanne's. Each block is 4" x 4" x 4" made but cutting two 4" squares of 2" thick open cell foam (the suff in chair cusions), hollowing out a space for a bell in the center, and then glueing two together before stuffing it in the sewn cube. I machine appliqued the letters on but since the fleece was kinda stretchy it rippled a little. I think next time I'll deal with it better (PS this is my first pic post so I hope I did it right!):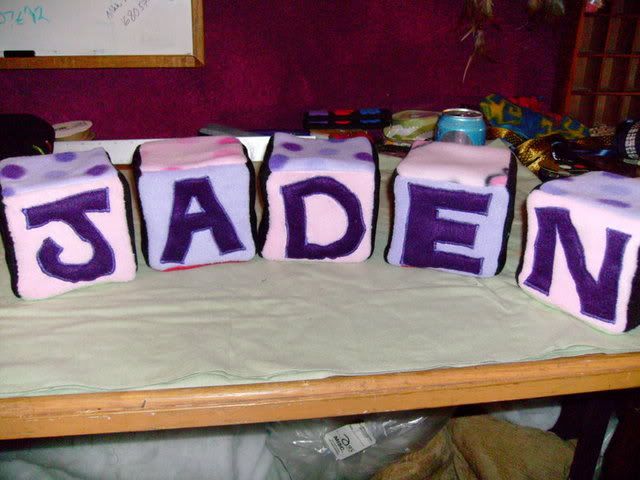 Next I used the same cherry fleece and a baby pink fleece to make a taggie blanket 14" x 14":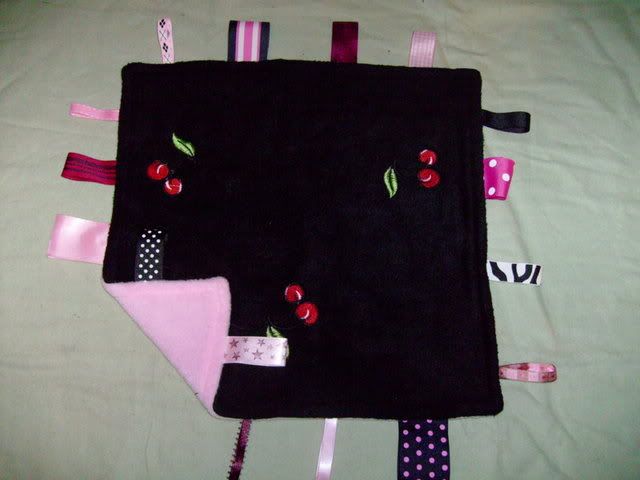 Then I made a big tote out of a clearanced cherry denim (the cherrys are lightly embroidered on it) and some pink broadcloth. I used a red sqiggly fat quarter to make inside and outside pockets. I also found a black and white gingham with embroidered cherrys trim, and sewed that onto the Navy webbing that I used for the handles. The bottom is black cotton duck: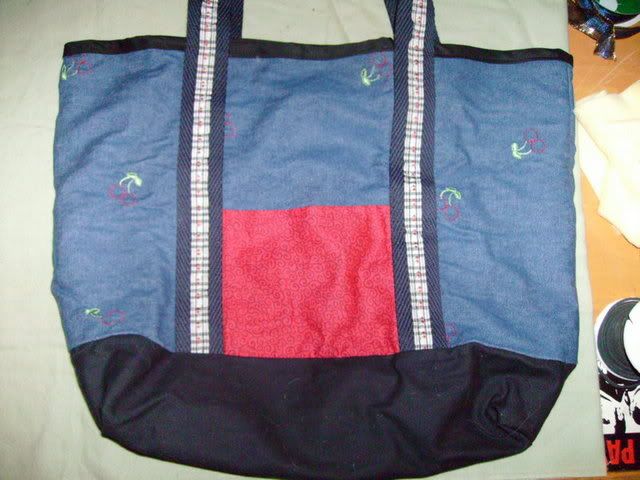 Here it has all the stuff in it and is hanging in my son's room (his walls are a faux finish I did in multi-blues with little metal stars mixed into a clear glaze on top):
And this is a cute dress that went with the set though I did NOT make it. I found it for two bucks at a thrift store (looks like it was never worn!) and got the little stretchy leggings with lace trim at Walmart
I TOTALLY can't wait to give it to her! There are a lot of little details I wish I had done differently, but over all I think it turned out pretty good for a coordinated set.