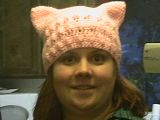 Please don't mind the obvious mirror picture. The hubby wasn't around to help with taking the pictures. Normally I don't look so spastic... Anyways with all of the crafting I'm doing for holiday presents, I thought I needed a quick little something for me.
This hat is sooo easy to do. I'll see if I can wing a tutorial (Beware i've never written a tutorial before!
*This tutorial is winged with an H hook*
chain 41
double crochet all the way across and chain one
do not turn around, instead continue across the back of the chain (now working in the round)
continue double crocheting down about 7 rows
On the 8th row, double crochet 4 then work the popcorn stitch (see the popcorn stitch here:
http://www.nexstitch.com/v_popcorn_stitch.html
) then double crochet two and then another popcorn stitch. do this across the front until there are four left on the front and then double crochet the rest of the way across the front and double crochet all across the back
Do that for 4 rows
Then double crochet all the way around the last row. and hide your string.
Next try on the hat. You'll see the ears there already. If you want to secure the ear spot find the bottom of the ears and take a piece of matching yarn and just secure the front and back together and hide the ends. Thats not really needed though because when you put it on the ears are usually perfect.