12
charms lucky player charm bracelet! (i play a lot of games, altered mommy says this is to distract them with The Shiney. which sadly, could work at 4am, during the 3rd hour of monopoly)

11
book and book oriented things!
colouring book for shroomheads! (i also got pencil crayons)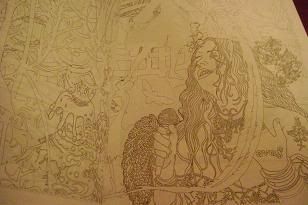 a crafty book, it's really cool, it comes on cardboard slices instead of in an actual book.
metal swirly bookmark with a skull dangler, and a chance card bookmark with a hotel dangler!
berry bookmark!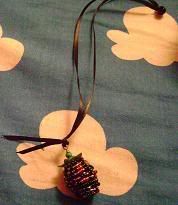 brain martians from outerspace style bookmark!!!!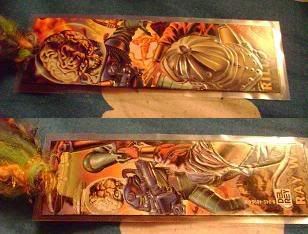 but the best for last, sci fi!
heinlein, and clarke!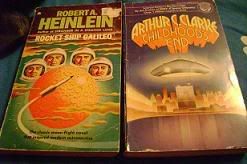 SPIDER ROBINSON!!!!!!
it was never discussed alteredmommy, but he is my favourite author of the 500+ books i own. i actually mail select callahan books to penpals across the world, i want to make sure they experience his amazingness. and i don't own user friendly, though i was looking at it on ebay. WAY TO READ MY MIND, ALTEREDMOMMY!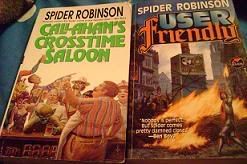 10
mini ornaments!
jack skellington and a zombie girl, polymer cupcake anatomical heart
rock fingers and hufflepuff pride, monopoly money, teeny tiny dice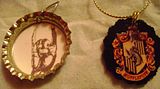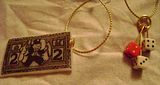 and last and most awesome, clockwork orange mc and bronzed vampire stake
9
gala day!
three teeny tiny crocheted apples to match my big one, and an apple pincushion made by suzie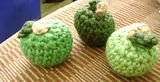 evil gala/good gala notecards! evil gala/good gala rubber stamps!!!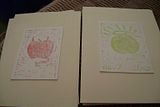 cinnamon apple smelling pouch.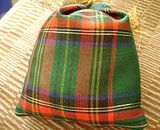 8
necklaces made of PURE AWESOME
i want to know how you made these mini-boxes.
tree of life and moon lariat by laughing lark, polymer by moonfairy, and cool bone(?) pendant.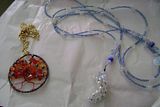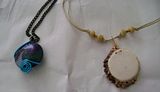 amazing knife necklaces, there's a whole interesting backstory. and an anatomical heart, and a resin bug necklace which creeped out my mother
7
supplies!
shrinky dink paper, beads and findings, and a michaels gift certificate for textile medium!... national geographics(best for collaging), 2 exacto knives, numerous blades, and a self healing mat (i've wanted one for awhile)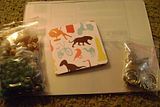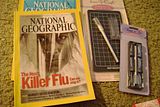 6
cards things!
2 decks of cards and laminated instructions for a card game... 2 magic deck boxes and a deck bag!
5
things needed to solder! (i can't believe i got a soldering kit!)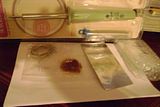 4
presents for my loved ones!
for my mom, whale artwork, for my dad a little mini charlie brown tree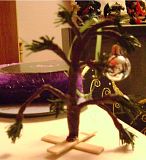 for jason, a wall hanging suiting his personality, and vince gets a deck box and bag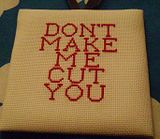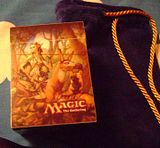 3
things to keep warm!
hufflepuff scarf the size of my body! my chronically cold mom looked at it and said "now that's a real scarf!" lol. excuse the grubby nightshirt, it's the same one i use to dye my hair.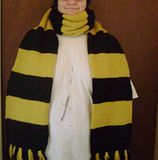 a rainbow toque, i love the colours!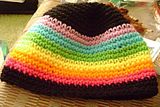 a Marilyn Manson embroidered toque! i can't wait for my jealous friends to try to steal it.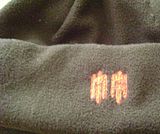 2
feet!
they were originally supposed to display art socks, but i think i'm going to use them as decorative zombie feet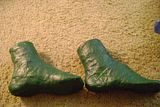 1
marilyn manson shrine!
more specifically, a doll dagga buzz buzz ziggity zag shrine, from the golden age of grotesque cd.
the frame in the corner says "if you're not dancin', then you're dead" which is one of my favourite lines from the song.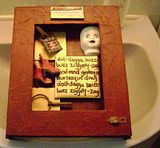 this was an awesome swap, and i couldn't be more happy with the stuff i got.