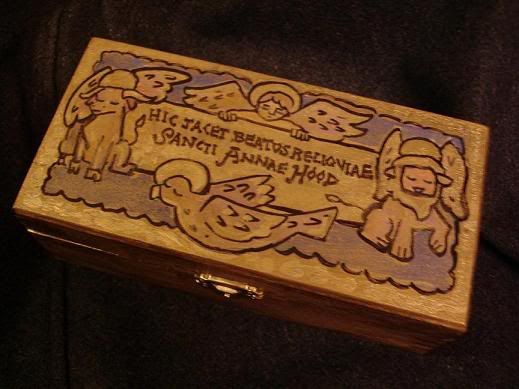 A "reliquary", (a trinket box that houses the blessed bones, underwear, or toothbrushes of a holy figure
),for my very, very sweet and very saintly art history professor at Hood College.
It says, (I hope), "Here lie the blessed the remains of St. Anne of Hood".
I've never taken Latin so I had to scour the net for crash courses in archaic grammar- I hope I didn't botch it up too much. This photograph was taken before I decided on the declension of "Hood"- (it's an English surname with no translation, I think I winged it and chose second). Anyway, she seemed please with the result.
If you're into medieval Christian or byzantine symbolism you'll recognize those four figures. The Evangelists: John, Paul, Ringo....
Just kidding.
Oh yeah, and the inside says "[my name]
fruit hic
"!