i actually just did this as a random gift "just because" but it's definitely valentines worthy.
okay i know the picture sucks....the coloring is so much different in person (deep red felt with contrasting black stitching all the way around" but i made a plush puzzle out of felt. there is one big piece that i stitched "you" onto, and the rest are just little indistinct pieces that take forever to piece together (mwhaha)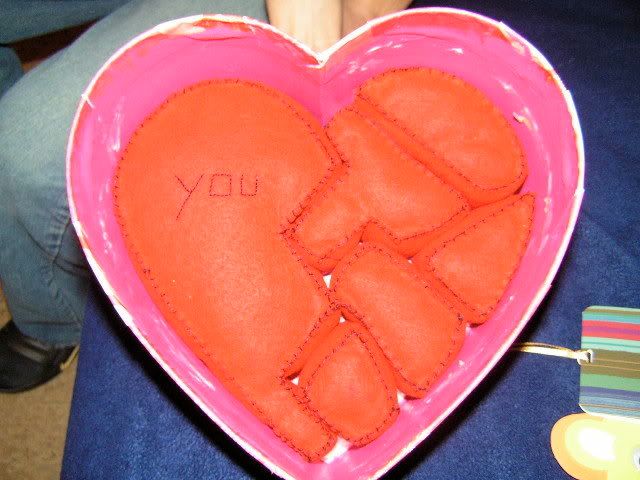 oh and here's the poem i wrote that i put in the box
"this box contains a little gift
you've never had one like it
i'm really bad at rhyming
so just bare with me for a bit
inside there is a puzzle
made especially for you
the pieces are slightly indistinct
so be careful with what you do
the shape made by this puzzle
is very precious to me
it's the thing that keeps me breathing
and living happily
your role in this gift is crucial
in fact, the most important piece
you will find that, without YOU
I just would not be complete"
i know it's a cheesy poem, and i really suck at writing stuf flike that, but it went over GREAT with the boyfriend. so if anyone wants to use it, feel free to.
[note: the box that the puzzle is in was another random box from a different gift and we just figured out this weekend that the puzzle randomly fits perfectly into the box! weird!