First, let me say I love my hometown. It is with love that I tease it.
I have been trying to come up with something all month, and then it came to me this evening on my way home from work. So I had to work with what I had.
I am from
Oak Ridge, TN
. Oak Ridge was built during WWII to help develop The Bomb. It also is known for having the first permanent nuclear reactor (the graphite reactor, second to the Chicago Pile), along with numerous other research reactors. Growing up, the joke always was "I'm from Oak Ridge, I glow in the dark." So that is where I got my idea for making a mutant.
Then, being a relatively small town in the south, high school football is the main event in town in the fall. On top of that, my senior year we won the state championship in football. So thats where I got the idea for Jenny the three-eyed mutant cheerleader. She has three eyes and three fingers on each hand. She has little pom-poms that are close to the town's high school colors (maroon and gray, I was out of gray and used a khaki). Jenny loves Oak Ridge, and she loves being a cheerleader. Her younger brother, who she hates, cut her hair over the summer, so now she is sporting hair a wee bit short for the required cheerleader ponytails, but gave her and excuse to try bangs.
So, without further ado, I present Jenny from Oak Ridge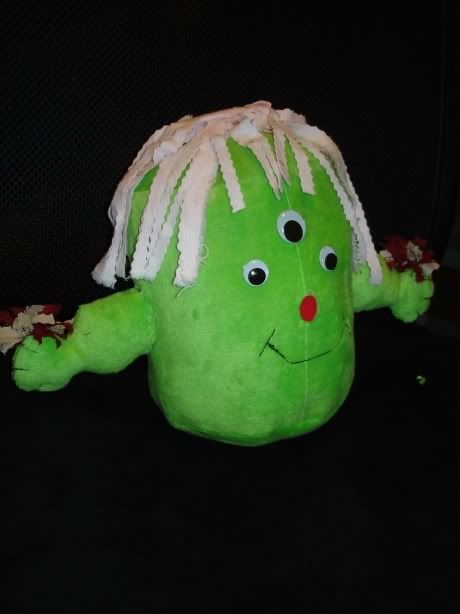 And a close up of the pom-pom