I claim:
#7 - satiny poly - black with multicircles 1/2 yard and
#5 Poly blend blue floral - brushed suedey feel 1/2 yard
Fabrics all at least one yard unless noted:
#1 100% cotton, home decorator weight, burgundy, mauve, green, and purple. Please note, this fabric was sewn into a tube along the selvage. It was used as a curtain-type thing and came with our house. It has been washed. Being a fabric lover, I had to save it, and if you cut right long the seam line, you would only lose the selvage.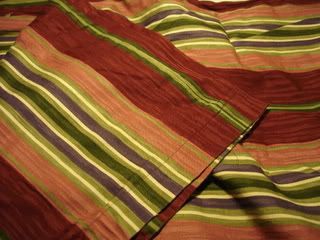 #2 Cotton Flannel, burgundy and green
#3 Teal, green, and black blobs. From Ikea. Not sure of the content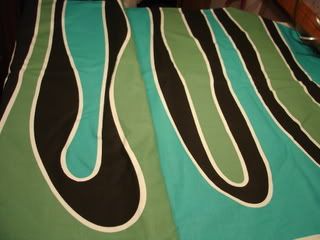 #4 Green and blue trees. Also from Ikea, also unsure of content
#5 Sheer fabric, Grey and shimmery white skulls (each skull is about 1" tall, this is a closeup)
#6 Shimmery red with black skulls. Skulls are only on right side of fabric. Not quite lycra, but that the closest to how it feels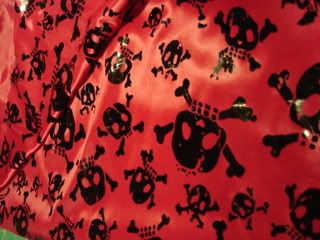 #7 Orange with black spiders (Halloween is coming!). I think this is cotton. Only 1/2 yard available
#8 Olive green flowers. Piece is 28x24, so we will call it a really fat quarter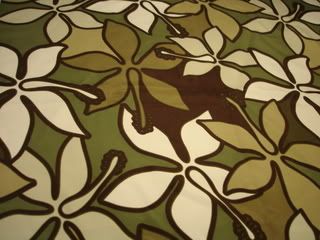 #9 Brown, gold, and red brocade dragons. Also a closeup (and very hard to take a picture of). 1 yard x 40"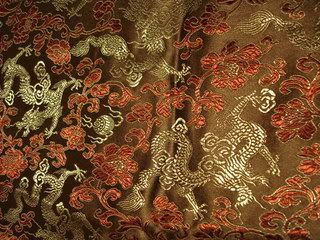 #10 Fleece, Navy theme. The largest part will make a fat quarter. I'm throwing it up here because perhaps someone could use the designs as accents for something. Yes, this one is sort of like I'm "just getting rid of it," but I'm not going to use it and its too big throw away.