I saw a few things the other day that I wanted to try. I've tried and failed with embossing powder on polymer clay before. I have very little time anymore (I have two year old twins), so when I get the chance to use polymer clay I try to make a batch that includes about 15 pieces, and usually only about 2 turn out the way I want them to.
I'm not in love with this one, the stamp didn't come out completely and the design, I think, was a little too complicated to try to do with embossing powder. However, it gives me inspiration to try and do a cameo with this same technique. BTW, it's a lady holding a letter...though it kinda looks like she's flipping us off.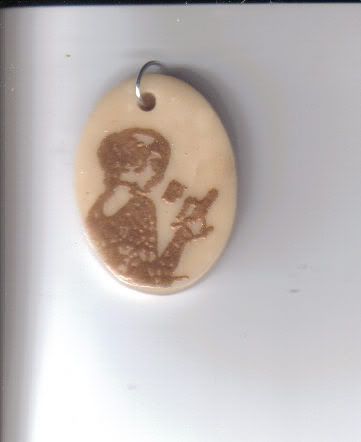 This one was originally done with embossing powder as well, but it was driving me nuts, so I scraped it off and started again. I liked the shape. When I went to drill the holes, I messed up on the first, so I just drilled a second. Originally I was thinking I would hang it from a necklace on one hole and dangle a bead from the second...but then I used a rub-on from the scrapbooking section and decided that it would make a nice nameplate type component.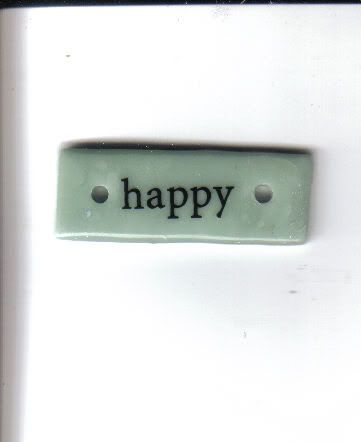 Gold embossing powder that was put on a greenish piece of clay. I did the embossing after the clay was cured.
This still needs to have a hold drilled it. For this one I made the impression in the clay, cured it, then put the embossing powder into the recesses, then baked it again. This one is actually the same stamp that was used to do the green/gold one up there. It makes a huge difference which way you use it.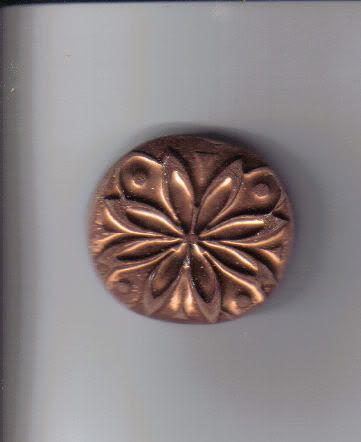 So far my favorite. This one also had the impression made prior to curing. Then I rubbed some light blue acrylic paint on it, gave it a few minutes, and wiped it off. Then a coat of varnish to make that paint stay put.