Now that the Halloween Season is over, I have some time to share the crafty side of my holiday. My boyfriend, Bryan, and I crafted a few decorative things (such as the usual pumpkin carving, a haunted gingerbread house *and my first ever to boot*, and fake eyes) as well as our costumes.
-Spooky eyes
One night, Bryan and I were out investigating what the local retail offerings were for Halloween decorations. We kept seeing those light up, glowing spooky eyes everywhere but we could not justify paying 9 dollars for a set of 3 pairs of eyes. Then one weekend after this, his daughter came over with a platypus that she had made for him out of model magic. Suddenly, I realized how we could make our own glowing, spooky eyes. It was off to the craft store to purchase model magic, craft wire and paints.
First thing I did was sketch out all the eyes that I wanted to make. Didn't make them actual size nor perfect, I just wanted something to reference when I was sculpting the basic shapes. To form the eyes, I took a ball of model magic and flattened it out. While flattening it, I shaped it as well. Once I got the most basic shape of it, I pinched between where each eye would be and then flattened that area out. Using a small piece of craft wire, I poked two holes into the top for the hanger to be glued into place when the eyes were dried. I left them to dry and harden for 24 hours.
I then cut small lengths of craft wire, bent them and glued them into the top holes on the eyes. Afterwards, I painted the eyes with a layer of glow in the dark paint. When that was dry, I painted the iris and pupil details on and let them fully dry (this step took a while because I got cheap paint that was very thin thus requiring multiple layers of paint to be built up). We then sprayed them with a glossy clear coat and hung them in the tree in our front yard.
Here are some pictures: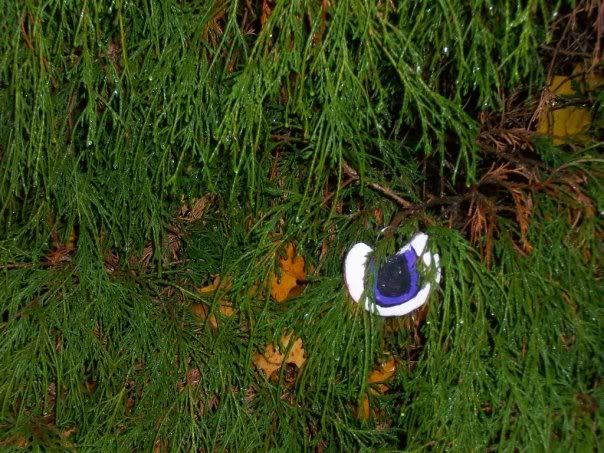 my purple cyclops eye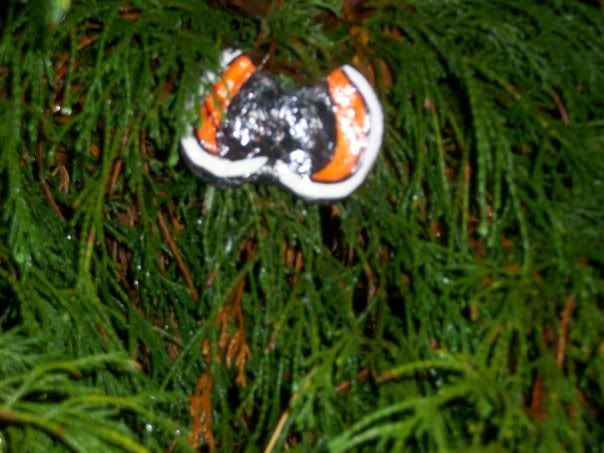 Orange eyes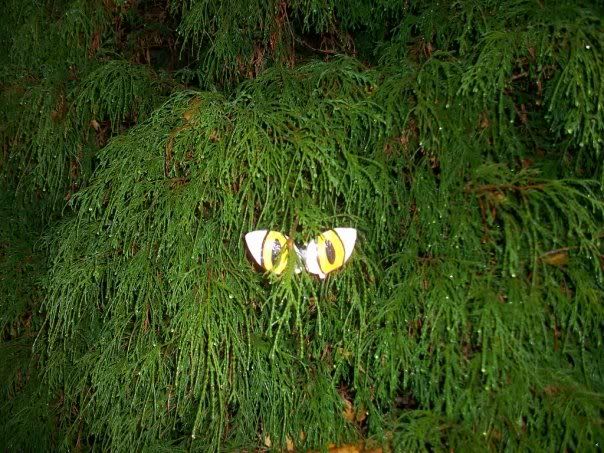 My 2nd favorite pair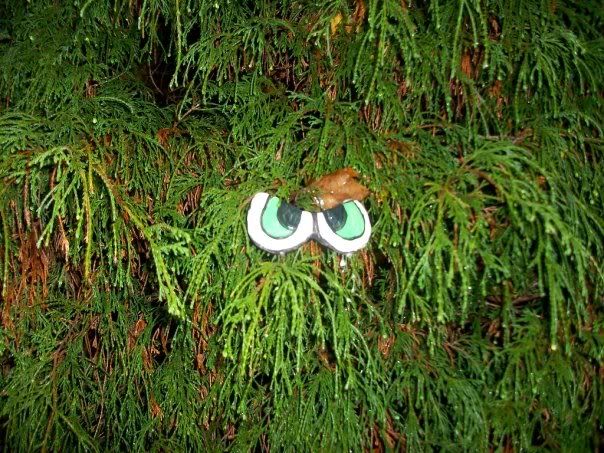 these really were super fun to make.
I wish I had a closeup pic of the 5th pair made, but we couldn't get a good enough shot. There is a pic, further down this post that has the 5th pair in them. I'll point it out when it is visible.
We had these on a tree right near our front porch. One side of the tree had a purple spotlight hitting it and the other side was hit by blacklights (we put blacklight bulbs into our front porch light). They look awesome under blacklight and stand out really well without it. Even with no lights on they stand out nicely thanks to the glow in the dark paint.
-Gingerbread house and pumpkins
We also made a haunted gingerbread house. This is the Wilton kit. While I would've loved to make one from scratch (especially given that it was my first gingerbread house ever...more on that in a min), we were running around like crazy all month long (lot of birthdays and halloween parties) and the kit was just easier. We supplemented some store bought, ready made decorating icing in the construction and decorating phases. See, I wanted to try and avoid having to make the icing that comes with the kit so we bought some pre-made icing from Wal-Mart's halloween section (it worked quite well) but we needed to use the kit icing anyways. But I'm glad that we didn't decide to use the icing from the kit alone because it was not enough (cause we wanted a uber base for our house...)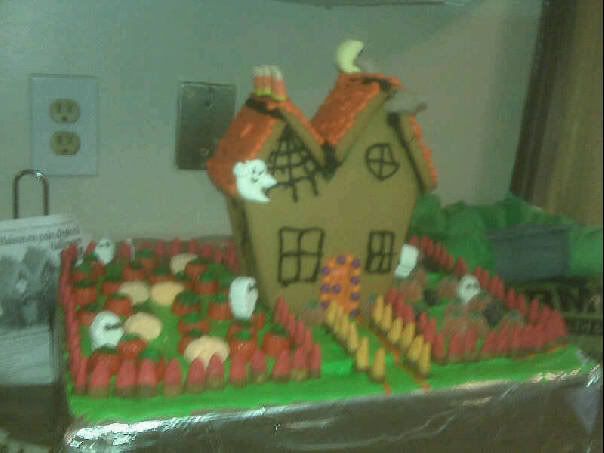 We used the base included in the kit but then put that on top of a cardboard box which became the "yard" for the house. We also had to rely on our own halloween candy stash to decorate the house because the kit came with only a few bits of candy; a handful of candy corn, a baggie of flavorless round candies (these were the most plentiful), 1 perfect orange spice drop and 4 deformed licorice drops (whose deformities were helpful in creating tombstones for the yard), as well as one sugar ghost decoration. We used our own mellowcreme pumpkins, candy corn, spooky marshmallows and jelly pumpkins.
And yes, this was my first gingerbread house ever. When I was a kid, my dad would make the gingerbread house every christmas but would not let us help beyond picking out candies to use as decorations (can we say control freak? lol). And one of the only times that I was even remotely given the opportunity to decorate a gingerbread house, I didn't want to because it was one made with icing containing eggs so, while it would dry really quickly and look really pretty, it was inedible. I felt it was a shame to waste the candy and gingerbread only to have to throw it out. I think it is only fitting that my first gingerbread house is a halloween one.
This year Bryan took a stab (heh) at scraping his pumpkin design out rather than carving it. He did Sally from Nightmare Before Christmas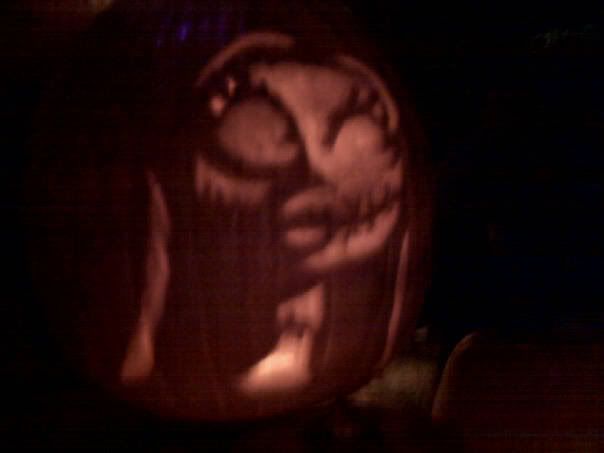 bad camera phone shot but it showed the carving the best of all the ones I took.
He chose Sally because we dressed up as Jack and Sally for my wifey's Halloween party the week before Halloween.
I decided that, since I was dressed all cute and such (you'll see) rather than being something gruesome and scary (like a zombie) that I would profess my love of zombies in pumpkin medium. I also decided to go elaborate with my carving and do a 2-sided design. I wanted to put one picture on the front and put another picture (which would cast a shadow) onto the back. I chose Karen Cooper from Night of the Living Dead for the front and a Dawn of the Dead zombie horde for the back.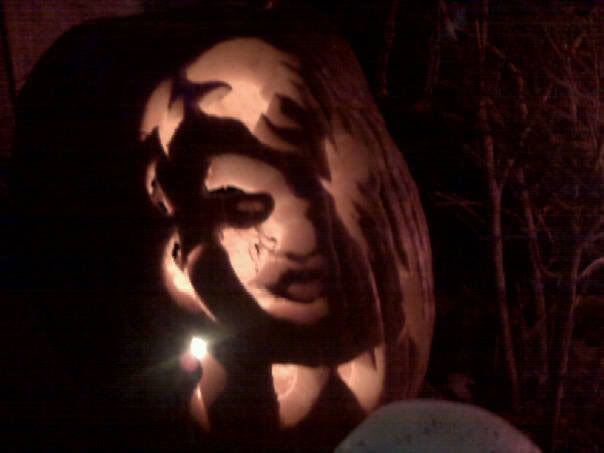 Front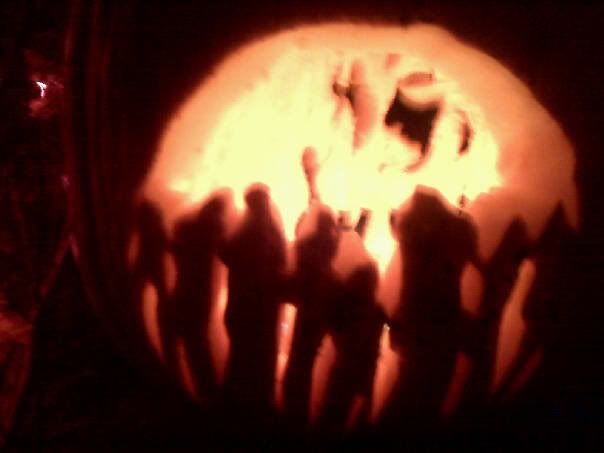 Back
I wish I had gotten a good pic of the shadow, but it was hard. When you knew what was on back of the pumpkin you could make out the shadow but otherwise it just looked interesting.
-And now, Costumes!
Bryan went as Ash from Army of Darkness. He constructed his chainsaw arm (by building up a chainsaw prop from the halloween store), and gun holster. Oh and he destroyed one of his blue work shirts. I think he did an awesome job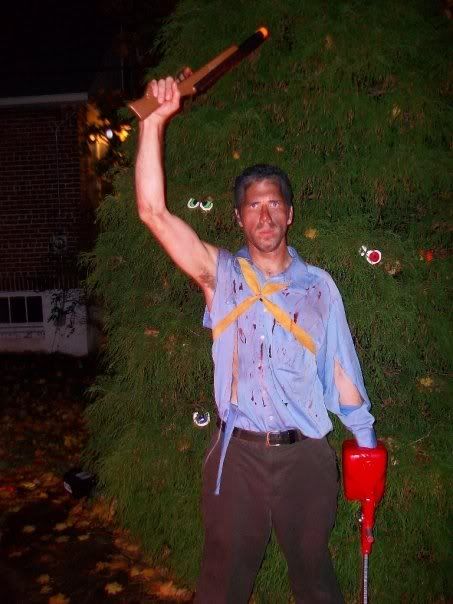 To his right, up from his shoulder, is the 5th pair of spooky eyes I made.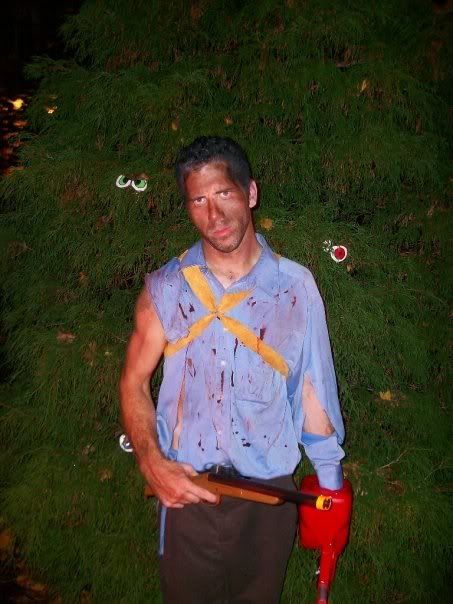 For his chainsaw arm, he adapted an Instructables guide to build a housing for his hand around a pre-existing chainsaw prop.
For his boom stick holster, he used some black leather I had laying around which had a tan suede underside (he used it suede side out). He cut and hand laced a holder for the boom stick and attached the straps to cross over his chest.
I decided that, instead of going zombie or gruesome this year, I would go as GIR from Invader Zim. It actually took me a lot longer than I had hoped to pick out my costume this year (I already have a costume plan in motion for next year) but it was easy and quick to make. I worked on it in my spare time between classes, studying and homework over the weekend and week before Halloween. I made my costume from a hooded tunic, felt, sweatpants and a black shirt.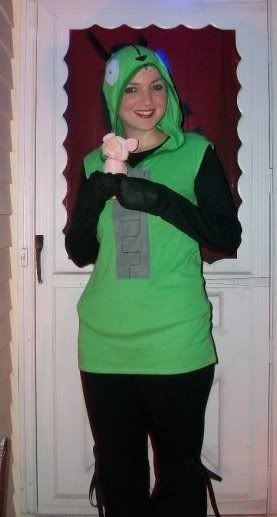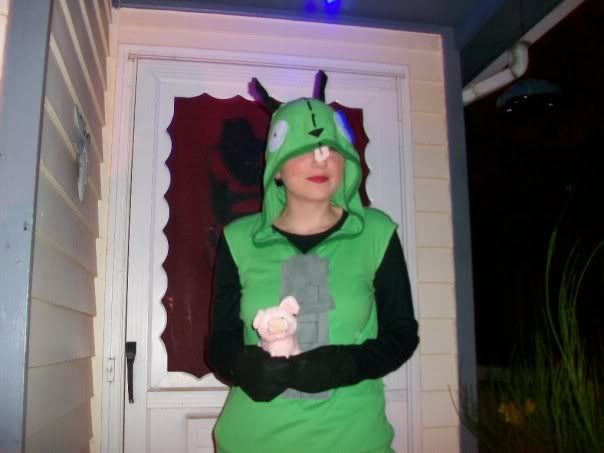 I was inspired by this GIR cosplay: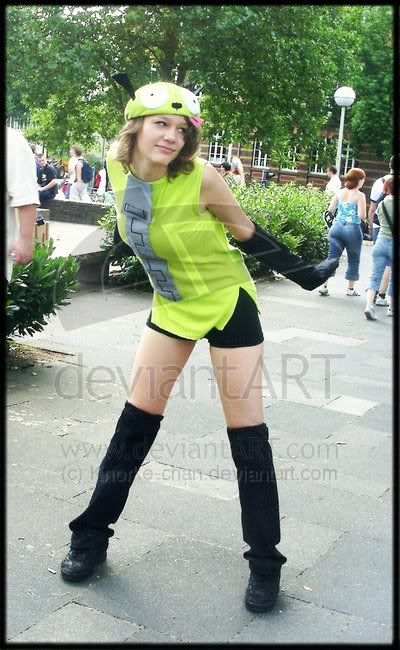 by Knorke-chan on deviantart (
http://knorke-chan.deviantart.com
).
I started with a long sleeve, green tunic (size XL), resized it to fit me better and removed the sleeves. I sewed GIR's ears and tail (there is a tail on the costume but...no pic :/ ) out of black felt (the ears also had black pipe-cleaners in them for stability). I sewed the ears and tail into the tunic (sliced the fabric, inserted the ear/tail and sewed them in place) and sewed squares of felt in place on the inside of the shirt to reinforce them and to help the ears stand up better (my description of what I did sucks). I then cut out his eyes from white felt and glued them into place using liquid stitch (his pupils were drawn on with a sharpie). His nose, stitching and tongue are just small felt shapes glued into place. And the zipper was made by cutting out the shapes in white felt, painting the shapes gray (took lots of paint as felt is quite absorbent), drawing the zipper detail on in sharpie and then gluing them in place.
I made myself fingerless mits out of black felt since GIR has no fingers (so much fun trying to shake peoples hands at the Halloween party like that haha). And I made large, black legwarmers out of black sweatpants. Instead of elastic at the top of the legwarmers (since most elastics give me hives...yay allergies!) I used double-fold bias tape to make drawstrings (as I had plenty of it lying around).