Sorry I am late with posting pics (been chaotic of late)
I have thumbnailed the pics as they are big and might take a while to load.
So here we go with the AMAZING Jar from Purple Heather
The Jar!
The first tip out!
I tried to group everything together but it would have taken forever hehe
The fabby Poison Patch, Diamante buckle, Japanese Paperdolls and some lovely red hearts that I am going recon some shoes with!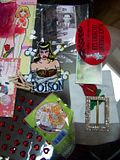 Look at the lil munch bunch dudes! I remember these so much from being a kid and LOADS of ribbon (I love ribbon!)
Loads of fab paper bits and dyes, ladybird peggies and bells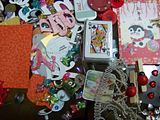 Lovely vintage/neo necklaces, luggage lables, Pony Beads
My favourite things...... the gorgeous lil felt Hello Kitty and Panda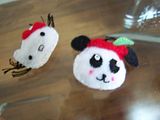 Japanese Paperdolls!
and this adorable panda thimble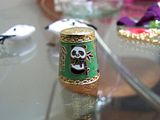 Thank you so much Heather...I LOVE everything!...especially the naughty victorian pictures which I daren't show hehe
Kitty
x