Hey everybody! I was hard at work tonight perfecting the pattern for panties. I'm a loser, I know. But I'm a whore for panties and I can almost justfiy spending 15 dollars on them...almost. Then I realized I had more stretch knit fabric than anybody will ever use, ever, and I probably buy on average about 5 yards a week. Its an addiction, okay?
So it began...
These are all made of stretch knit, which is t shirt fabric, though some of the fabric was quite a bit more elastic, and kept its shape better. None of them are hemmed (which is the joy of stretch knit) and I didnt use elastic, for comfort reasons. And sewing reasons. Sewing stretch fabric without a serger is bad enough, why make it worse?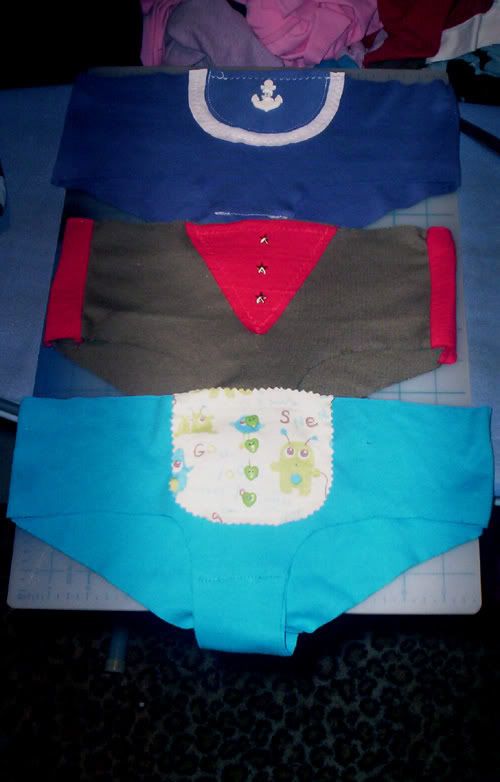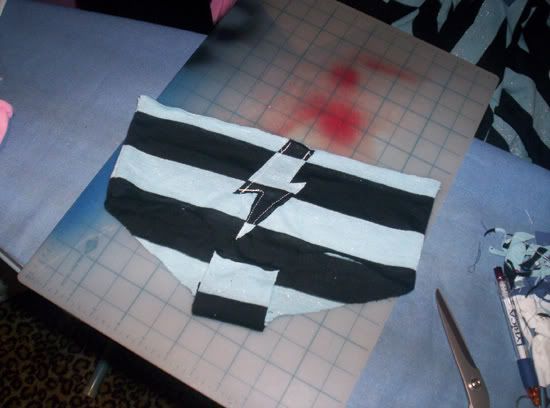 And here is the general idea of the shapes you should be cutting out.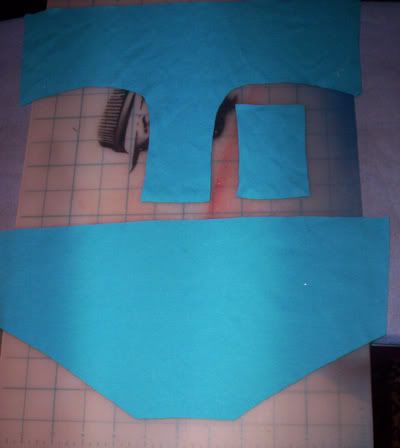 If you're a size small, this pattern's dimensions went something like...
Front: 14 inch wide waist, 3 1/2 inch side, 8 inches in length on the crotch part. The width of the skinny part of the crotch is 3 1/2 inches. Scoop is improvise and you should use your favorite pair of undies as a guide.
Back: 14 inch wide waist, 6 inches in length at the longest point. The part where the crotch piece of the front will meet is 3 1/2 inches long.
The crotch piece was cut at 2 1/2 inches wide and about 3 1/2 inches long.
Holy crap! I took a photo of this on a cutting board with a measurement grid! I was rotary-cutting it (very good for cutting stretch knit, too, because you dont get those weird scissor-snag things). Yes, I did cut myself on the rotary cutter.
Please cut the fabric so it stretches from side to side. Please.
Now you make a sandwich of the crotch piece, the front piece, and the back piece. Right sides together, and make sure the crotch piece is hanging near the top edge of the front piece of the panty. This will make sense once you actually cut out the fabric. Pinning is advised if you are easily confused.
Now sew the two sides. This should be self explainatory, I hope.
You can add elastic to the waist and legs if you want, and of course you'd use a zig-zag stitch...but honestly, you can get away with not doing this if your fabric returns to its original dimensions well enough.
As far as adding embellishment, you can get away with using straight stitches as long as you're sewing it on fairly vertically. Otherwise, get decorative and use a zig zag stitch.
Additionally! And possibly, most importantly. The things that will mess up your panties the most are not cutting the long part of the crotch long enough, and not cutting the side-seam parts long enough. If the crotch is short, its going to pull the panties wayyyy down and you'll have super-low rise unwearable, uncomfortable panties. Its best to cut it a few more inches longer just in case. Pin to test, but use safety pins for the love of god.
And if you cut the side seams too short, but with the general low-rise panty shape, you will also end up with unwearably low rise panties. You can change the shape of your panty here, however, with how you cut it. Keep the side seam super long (around 5 or 6 inches) and you'll have more of your boycut variety panty. Keep it about average (4 inches worked well) and you have your average low rise panty. You can also play around with the scoop of the leg on the front and back, but for me in the back, I prefer to keep the scoop a straight cut. Its rather booty flattering.
And if you plan on adding a band on the top! Please make sure the fabric is stretching side to side, once again.
This is definately one of those trial-and error things, but they honestly take about 15 minutes to bang out. The time consuming part is the trying-on and the embellishing.