My boyfriend and I were invited to the (we think) biggest private party in Detroit. (Attendance last year was something like 1200 people) The theme this year was Dia de los Muertos so we decided to stick with that. This is what we came up with.
My half-winged half-traditional Mexican dress was started on Friday. The party of course, was Saturday. I sewed it up from scratch (look ma, no pattern) and trimmed it with a bit of rickrack. I then painted fairly simple sugar skulls on (because embroidery was NOT happening, since I got really REALLY sick the day before.) It was ridiculously comfortable to wear and I honestly might bust it out to wear for the hell of it this summer. Its just black cotton broadcloth. I also bought pre-fringed fabric and made a really lazy rebozo with it.
My boyfriend, on the other hand, slept til noon the day of the party, ran out to the vintage shop, and managed to find an amazing ruffled shirt, and the even more amazing western jacket. He also picked up a sombrero (which we hot glued gunned 'dangle balls' onto...together...aren't we precious?) and a belt buckle. My dad's collection of horrifying artifacts from the 80's brought out the ever-awe inspiring bolo tie.
Then we painted faces! Boyfriend got angry halfway through his makeup. I fixed it for him. Andddd thats why I'm the makeup artist, not him. haha. We ended up using plain white grease makeup (and my face is telling me that the packaging did not lie today) and translucent powder for the base, eyeliner, and Kryolan eyeshadows for the very vibrant color.
And now to what everyone really wants to see, the photos: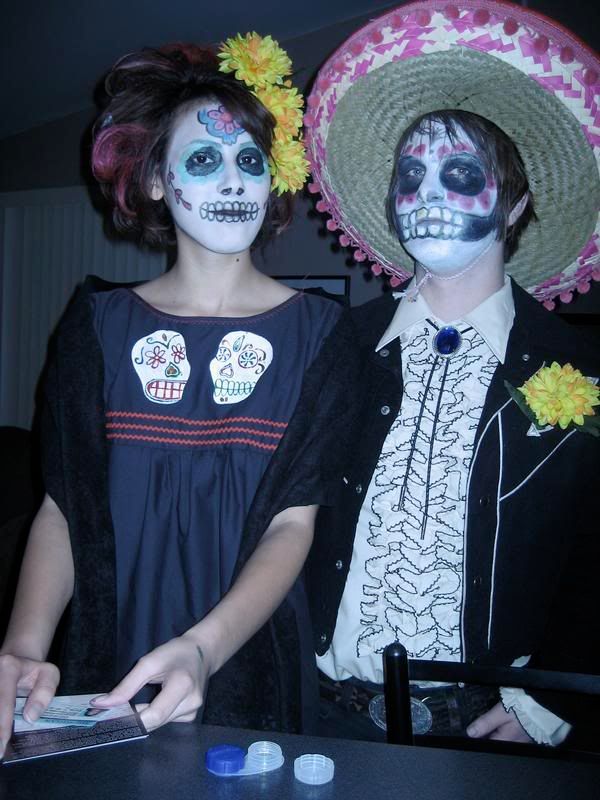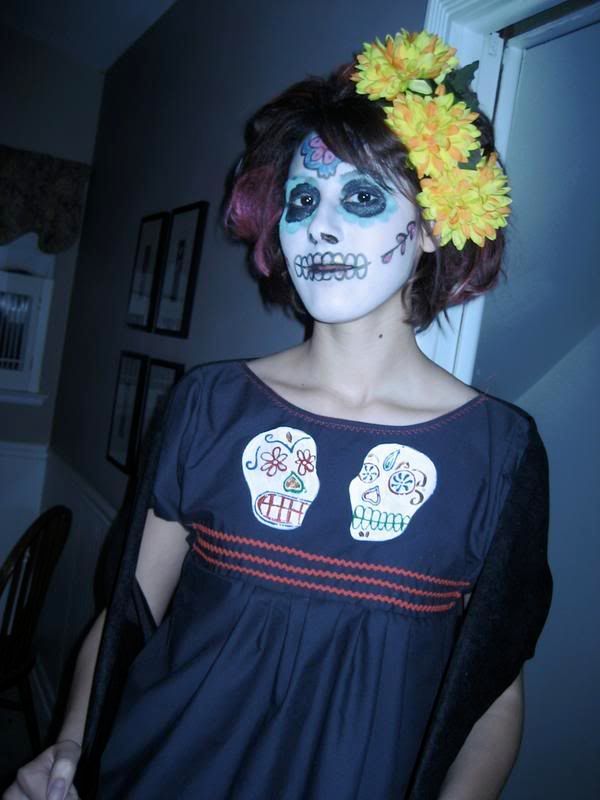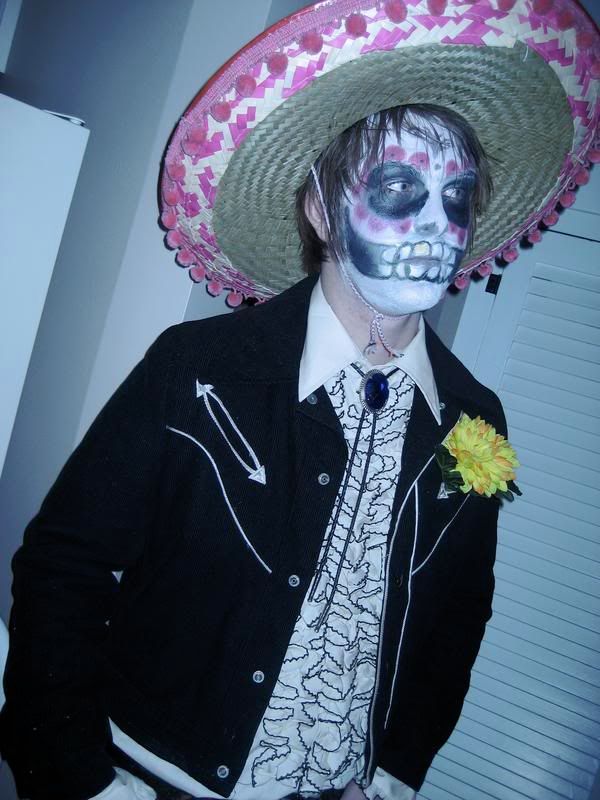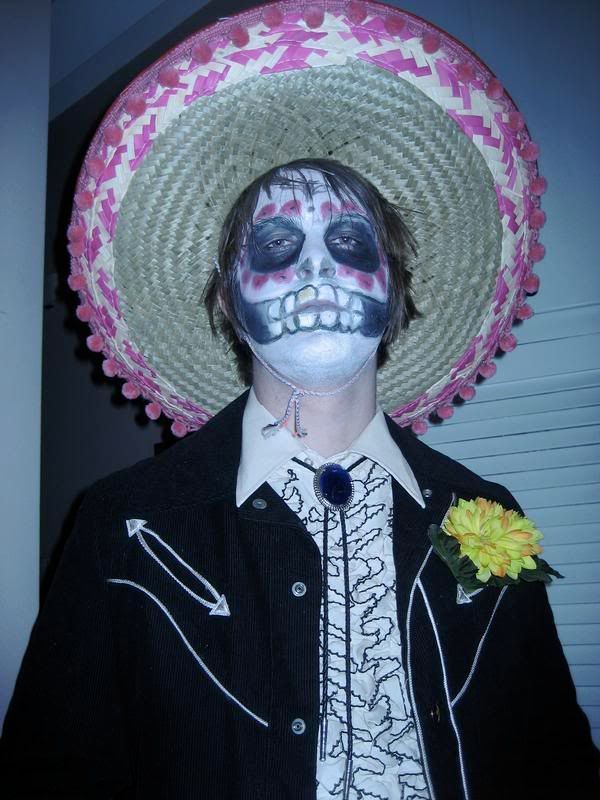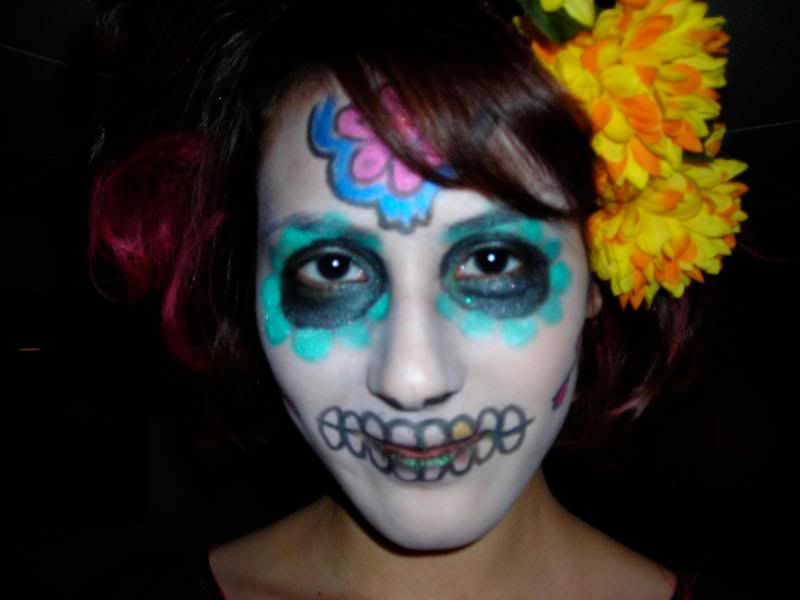 Oh hey did I mention we are METULZ?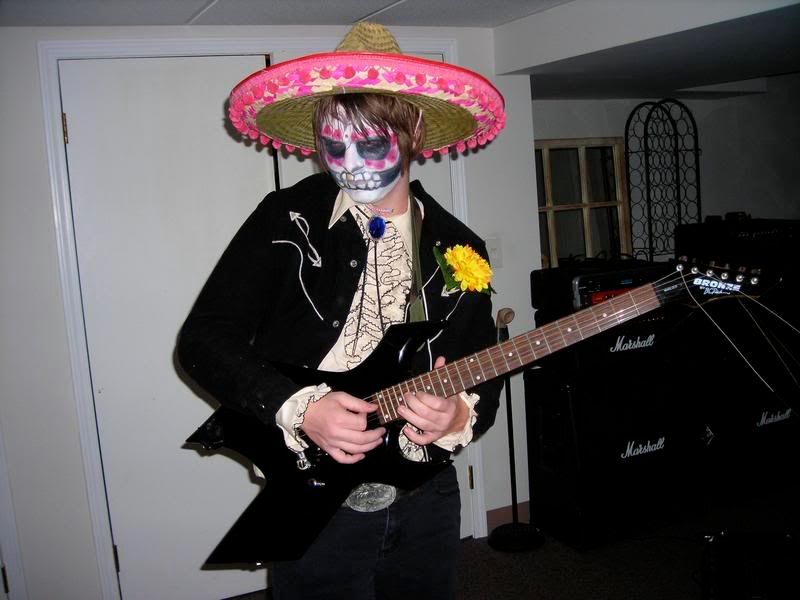 The marigolds were an afterthought (I think they're actually mums, but its alright).
We were a hit at the party. We got our photos taken quite a bit. The party, as expected, was absolutely fantastic. Unfortunately as we were both incredibly ill (and I had been up since 7 am that morning) we left about an hour and a half in. We scared the crap out of people during the drive home.
Good times!
Now I'm excited for next year!