Here are some pics of a project I just finished. I needed some baby shower gifts for my friend. I didn't have a ton of money and didn't want to end up just buying a pack of onesies so I made these!
She loves Care bears so I copied this picture from one I found on line and put it in a frame.
I got these patterns from Sublime Stitching <3 and stitched them on Gerber burping cloths.
This one has the babies initials and cute space stuff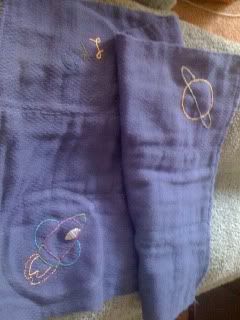 Here is everything together. 4 embroidered burp cloths, 2 baby socks (in 2 sizes) with the baby's letter of his first name on the side and the wall hanging. We also bought one thing off the list-a little Care Bear to add to the loot.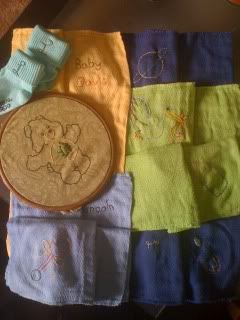 I'll find out next weekend if she likes them. I hope so! It took me a few casual days to do these. They're pretty easy and probably took between 1 hour (for the easiest ones) to 2 hours (for the harder ones) to do each. I used a few different colors of thread together to create the difference in the storks wings, the ring around the planet and the fire from the space shuttle. I use mostly my version of the split stitch and a little stem stitch here and there.