This was my first attempt at sewing anything, and I didn't want to spend a lot of money in case I turned out to be bad at it -- so I bought a lot of cheap, blue, stripey shirts from Oxfam, the Hospice Shop, Save the Children, etc, and cut them into squares, and then sewed them altogether into one great big 109" square!
Although it was my first attempt at sewing anything, it wasn't the first quilt I ever completed. Nine-patches turn out, for me, to be really uninspiring*, so I let this project drag on for a few years while other, more fun, quilts made the move from my head to completion.
Possibly this also had something to do with it being a quilt for me, rather than a gift for anyone. Funny how we always put projects destined for our own use at the bottom of the list, isn't it?
Here it is, anyway: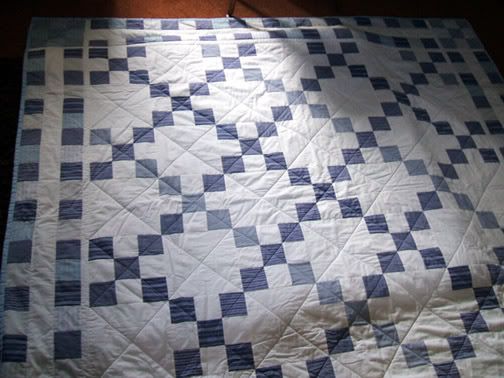 I didn't manage to use up all the squares in the snazzy border, so last year, thinking "I must clear out some of this ridiculous stash", I used the remainder to make a pair of co-ordinating pillow-cases. Here they are:
Hope you like them! I have to say that, even though the quilt wasn't hugely fun to make or anything, it does turn out to be comforting, cosy and warm on winter evenings. I don't know how we coped without it.
*except for a stunning one -- colourful, with a really good blending of rainbow colours from the centre to the edges -- that I saw here, but I can't remember who made it now or what the topic was called.