My friend Nancy had been begging me to dress up for Halloween with her. I really didn't want to, but I told her I'd make her costume. She said, "OK, what should I go as?" and I blurted out, "Well, last night as I went to sleep I had this brainstorm.... You could go as a magazine." A magazine? Specifically, a sexy magazine. Not quite porn... but hot.
Within ten minutes she was on the phone with everybody she knew spreading the word... talk about excited! So now I was in the spotlight... had to do a really good job.
I made her a black mini (just pinned the fabric around her, cut to fit and sewed), she chose pages out of some issues of Maxim Magazine, I sewed clear vinyl pockets for each page, and attached four to each side of the mini skirt. The pages were attached along the left edge and left free to be turned just like in a magazine. Each one has a little Velcro tab on the upper right backside corner to hold it to the skirt.
I reconned a t-shirt, removing the sleeves and cutting the front into a low scoop neck. I covered a Maxim cover in vinyl and sewed it onto the front of the shirt. I cut the back low and cut ties all the way down, about an inch and a half wide, for a sexy snug fit.
I made earrings, cutting black M's from polymer clay, then painting it with silver sparkle nail polish after baking. I baked a wire hanging loop into the clay. I strung a black bead and two sparkly ones, added the M, and voila! matching earrings.
I macramed a black choker with three dangles. It ties in the back and the ends hang down... very sexy, actually... got a lot of comments.
A pair of black fishnets and some high heels and Nancy's costume was complete! She looked good. There were many younger, very cute girls at the party, but guess who got all the attention.
Guys couldn't keep their eyes off her skirt; they just had to come up and turn the pages. (My friend is shy about talking to guys, and I thought if this didn't bring her out of her shell, nothing would. She shone. She had a great time. We won second prize with this costume, and some people took her picture at Denny's afterward. It was great. A definite, resounding success.)
Without further ado, the pics:
(My hubby took them, and we had problems with glare off the vinyl, so hopefully you can see the details okay.)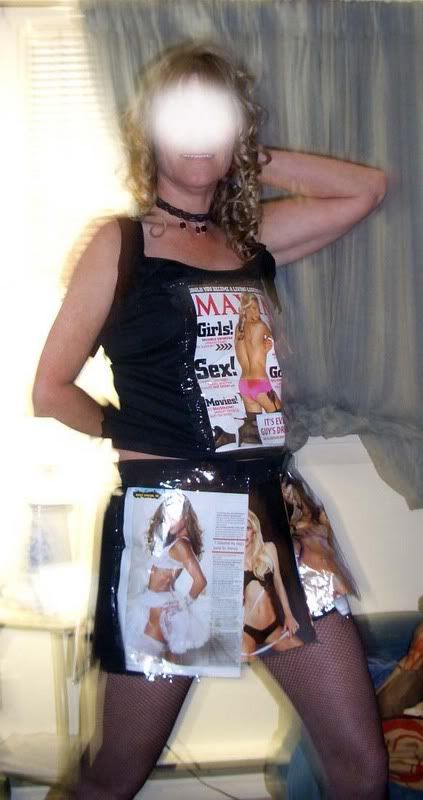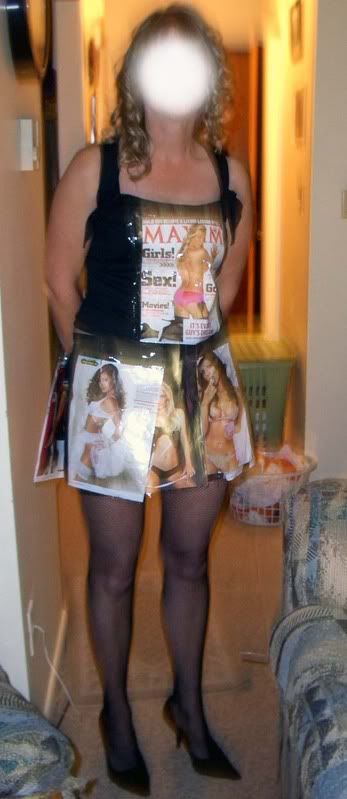 ACTION SHOT: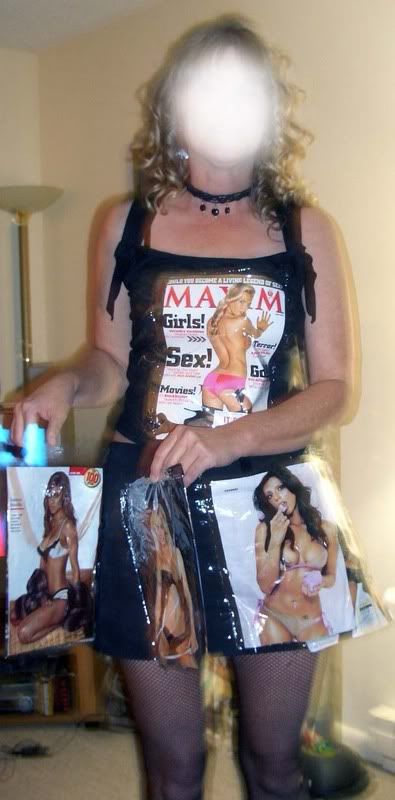 JEWELRY: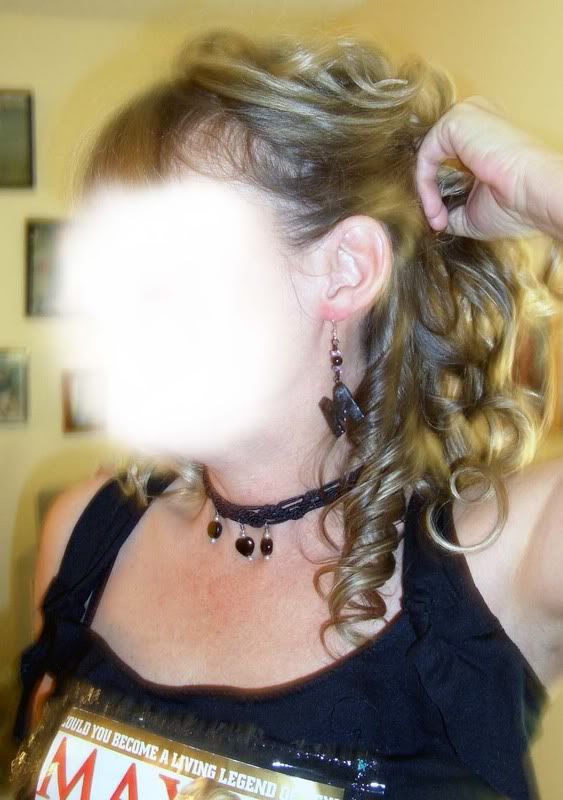 RECON T-SHIRT BACK, W/ CHOKER TIES HANGING DOWN: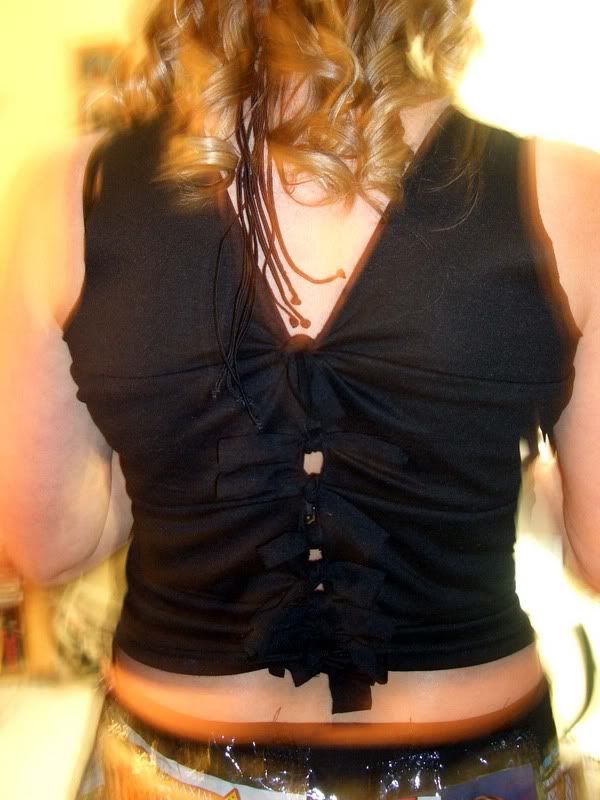 EARRINGS:
MACRAME CHOKER: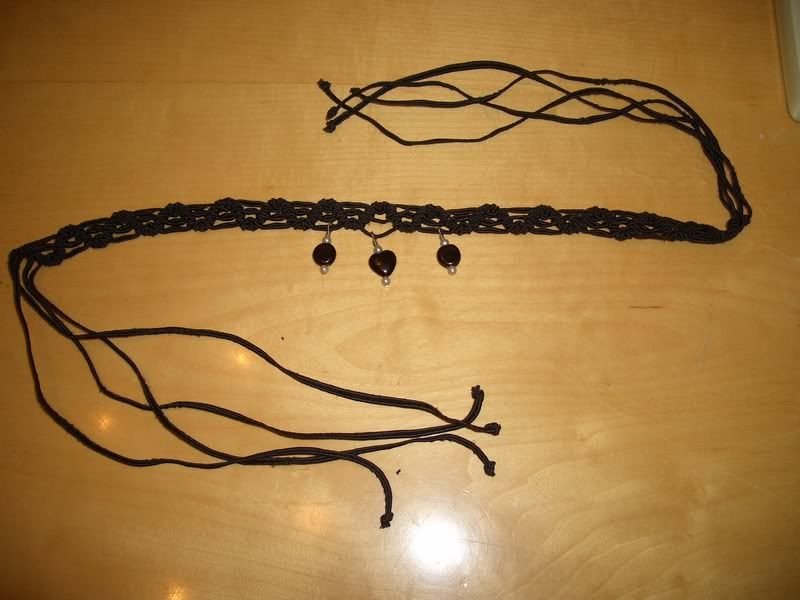 CHOKER DETAIL: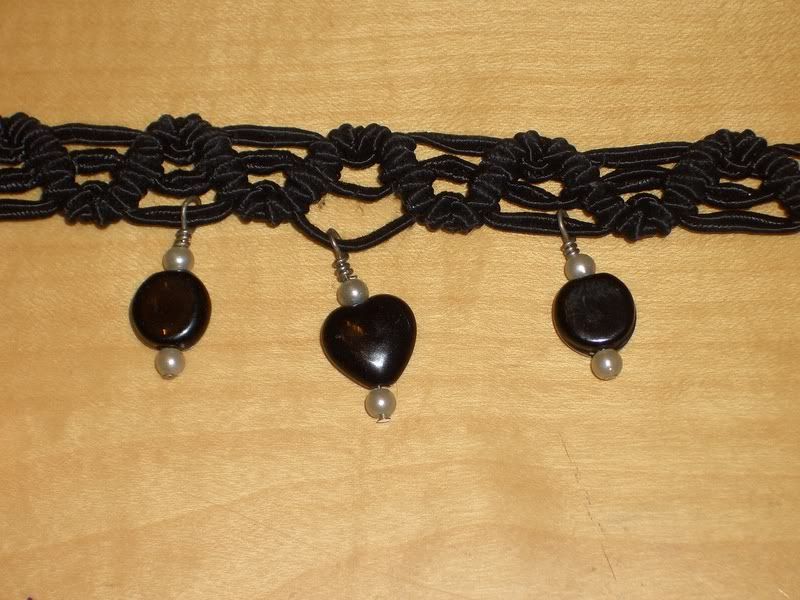 Hope you like it.
***EDITED TO GIVE CREDIT WHERE CREDIT IS DUE: I had seen annrkey's porn skirt here at craftster some time back (Don't look, Ethel!!!-- corny seventies reference
), however it is constructed in a much different manner, it looks pleated and is made with packing tape, if I remember correctly. Thanks, annrkey!!