I hope I can post pictures now. I'm up to 10 posts..
Anyhoo... I just finished this tote this morning. Wove in the ends while watching Headline News at 5am.
Hit the Washer at about 8am and was in pictures a few minutes later.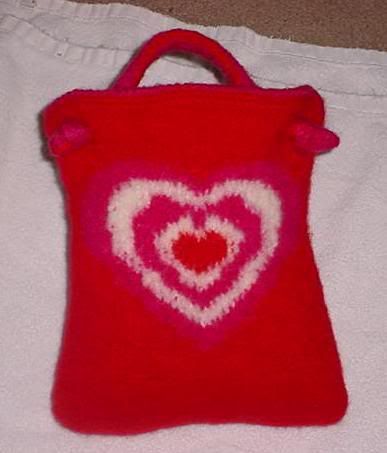 I got the idea from the "Stitch to Win" contest winners squares at
www.redheart.com
, using the December square designed by Michelle Taylor.
I made an oval base using regular crochet and I think a J hook. Might have been a K, but either way, a fairly loose sc base. I used a size N (Bernat aero) Tunisian Hook.
The square is based on 42 stitches across. I planned to make this in Tunisian, stitching each side separately, then seaming it.. so I made my base to come out at 46 stitches per side.. so there were an extra two stitches on each side of the square.
I also did 10 rows of TKS (tunisian knit stitch) before I started the heart pattern and 10 rows afterwards.
I used two full skeins of Lionbrand wool in the red. I really could've used a 3rd skein, but didn't have any more in the same dyelot. As it was, I had to make the handles in hotpink.
There's lots more pictures and more details on my blog. Direct link is:
http://lisaizme.blogspot.com/2009/02/showing-off-valentine-tote.html