Well, I was at a study weekend at my local church and as part of our activities we had lots of cool activities to do which included basket weaving, mud brick making, pottery, woodworking, spinning...and FELTING! I had been drooling over all the amazing wet felted stuff ont his board and I knew I had to have a go! So I decided to cram as much colour into it as possible and then I was inspired to go for a tartan design. I LOVE IT! I need to try this again...I'll have to buy some supplies first. I'm thinking of making a little coin purse out of this piece but I may not be able to bring myself to put a needle and thread to it...!
Here it is!
And here's the back...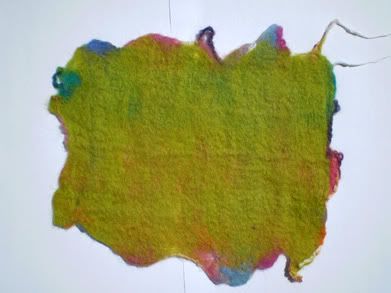 And here it is held up to the sun so you can see how I didn't really think about the thickness...next time I'll make the back colour a lot thicker...
I think I'm gonna take it with me to bed...I can snuggle up to it's softness...
Oh and I guess I should tell you about what it's got in it...wool roving, silk and wool yarn. And I made it on bubble-wrap.
I really love this piece of felt! What do you all think?