I am back to post! Yay!! I can't wait to see everyone elses' creations! Hmmm, I think I will post two photos, one to show you and another to get an idea of scale...
I cut the elipsese 2cm long and 1cm wide out of acrylic felt...and I stuffed them with some pulled apart acrylic wadding scraps. I really like the size it turned out, it feels good in my hand, like a tennis ball, but far far cooler! I also stuffed up the colours a little, I thought I wouldn't have any same colours beside each other but alas, I am not a good planner and now the yellow and the pink sit in same-same pairs. Oh well, it doesn't seem to detract too much. Here we go!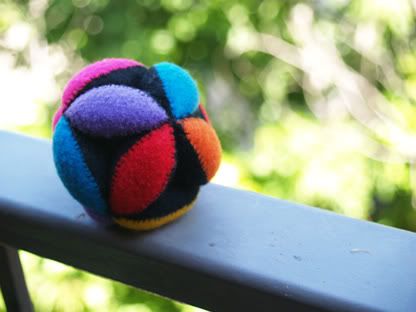 Enjoy!!
ps. It's all handstitched too...